Suns' Michael Beasley facing charge of marijuana possession
Phoenix Suns forward Michael Beasley has been arrested on suspicion of marijuana possession after being pulled over for a traffic violation.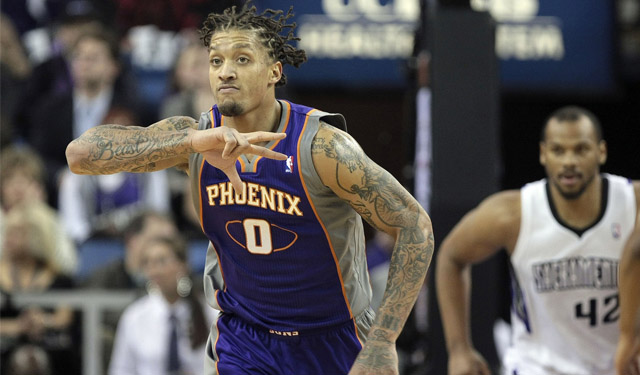 Phoenix Suns forward Michael Beasley has had trouble getting his career on the right track. After being completely expendable when the Heat were clearing cap room to go after LeBron James and Dwyane Wade, Beasley had a hard time finding his way with the Timberwolves. Despite his struggles over his first four years in the NBA, he still managed to get a three-year deal from the Suns for $18 million. He failed to impress in his first year with the Suns, though, playing just 20.4 minutes per game and finishing the season with more shot attempts than points scored.
Struggling on the court isn't the only problem for Beasley. According to AZCentral.com, Michael Beasley was arrested for marijuana possession early Tuesday morning after being pulled over for a traffic violation. The police confirmed officers found marijuana in searching his vehicle after detecting its odor coming from the car when he was pulled over.
Phoenix Suns forward Michael Beasley was arrested in Scottsdale on Tuesday morning and could be facing charges for drug possession, according to Scottsdale police.

Police stopped Beasley in Scottsdale at 1:15 a.m. Tuesday for a traffic violation in the area near Scottsdale and McCormick roads, according to the Scottsdale Police Department.

According to police, officers searched his vehicle after smelling marijuana coming from the car and confiscated narcotics located in the driver area.

Beasley was arrested on suspicion of marijuana possession and released from custody. He could be facing charges for drug possession.
This would be Michael Beasley's fourth public run-in potentially involving marijuana in some way since he's entered the NBA.
Back in 2008, Beasley was fined $50,000 for an incident during the Rookie Transition Program in which Mario Chalmers and Darrell Arthur were banished from the rookie symposium after violating an event policy in which they weren't allowed to have women in their rooms. Beasley revealed to the league that he was a part of the incident in which hotel workers detected the scent of burning marijuana but there weren't any drugs found in the room. Beasley was fined for the incident because he originally didn't cooperate in the investigation but level of involvement wasn't well known.
He also checked himself into a Houston rehab center back in the summer of 2009 after he posted a picture of himself on Twitter. In the photo, there were two plastic bags with a substance in them that many people assumed was marijuana but never was confirmed. The reason for checking into the Houston rehab facility was designated as stress-related issues.
In the summer of 2011, Beasley was pulled over in Minnesota for speeding. The car allegedly smelled of marijuana. The officer found marijuana in the car, but Beasley denied it was his. He said it was a friend's and had just dropped that friend off somewhere. He was ticketed for speeding and possession of marijuana, but no arrest was necessary.
Show Comments
Hide Comments
Denver is reportedly willing to part with young pieces and picks, but not big man Nikola J...

The Spurs and Cavaliers are discussing a trade for Danny Green

For the Ball family, marketing isn't everything, it's the only thing
The Hornets have reportedly set their sights on the Louisville product as their draft sele...

LaMarcus Aldridge's unhappiness in San Antonio is the driving force behind the Spurs' recent...

Aldridge is under contract for next season, with a player option for 2018-19