Suns name Ryan McDonough general manager
Suns hire 33-year old Ryan McDonough as new GM to replace Lance Blanks. Can he bring prosperity to the valley of the Suns?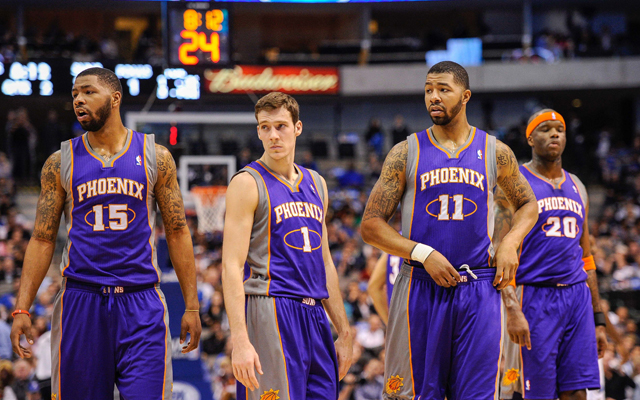 The Phoenix Suns announced Tuesday that they have named Celtics assistant GM Ryan McDonough as their new general manager. Phoenix went young here, as McDonough is only 33 years old. So basically, he could be Andre Miller's grandson and yet he's running a team.
McDonough replaces Lance Blanks, who was let go last month, while President Lon Babby remains in place under owner Robert Sarver. McDonough played a key role with the Celtics, and was instrumental in the selection Rajon Rondo (via trade with the Suns) and star defender Avery Bradley. For a rebuilding team like Phoenix, that's a great move as they need to go young, in a hurry. 
Meanwhile, you have to wonder how this move will impact interim coach Lindsey Hunter, who was a favorite of Blanks. If the organization is moving in a new direction, McDonough is likely to want to clean house and get his own guy in place. 
The Suns have more than $48 million locked up in cap space for next year, not a huge number, but certainly not a clean slate. The next year, however, in 2014-2015, they only have $22 million committed without options. We'll see what direction McDonough goes and if he elects to clear the miserable roster that was put together last summer. 
From the Suns' press release: 
The Phoenix Suns have named Ryan McDonough the team's general manager, it was announced today. He will be introduced in a press conference on Thursday, May 9, at US Airways Center.

"Ryan distinguished himself among an impressive group of candidates for our GM position," said Suns President of Basketball Operations Lon Babby. "His natural leadership and communication skills will serve the Suns well. And, his prodigious work ethic and ability to identify talent will enable us to take full advantage of the 10 draft choices, including six in the first round, that we have over the next three years. We welcome his championship pedigree to our organization."

The 33-year-old McDonough is considered one of the game's brightest young minds, who combines a tireless work ethic with an expertise in player evaluation honed over the past 10 years at virtually every level of an NBA franchise's basketball operations.

McDonough joins the Suns after most recently serving the past three seasons as the assistant general manager of the Boston Celtics, where he assisted Celtics President of Basketball Operations Danny Ainge on all basketball-related matters, while being principally responsible for the draft evaluation of college and international players. He combines the experience of nearly a decade of in-person scouting of prospects across the globe with an understanding of advanced metrics and statistical analysis. During his tenure with the Celtics, Boston made two appearances in the NBA Finals, and claimed the 2008 title.

McDonough joined the Celtics front office in 2003 as a 23-year-old special assistant to basketball operations, rapidly moving up the team's ranks with increased responsibility at each stop, always with an emphasis in talent evaluation. He spent four seasons as a special assistant, a role that included a great deal of video scouting work (2003-07), one season as director of amateur scouting (2007-08), one season as director of international scouting (2008-09), and two seasons as director of player personnel (2008-10) before his promotion to assistant general manager in Sept. 2010.
Show Comments
Hide Comments
Surgery is to "repair core muscle-related injuries"

Somehow, the Celtics have become a significantly better defensive team with Thomas on the...

Will Iggy stay with Golden State? Does anyone have any idea what to do with Derrick Rose?
Hoiberg was asked about Isaiah Thomas possibly carrying the ball during Game 5

Celtics point guard does not need anyone to hype up his defense

The Bulls had it, they had it ... and ... it's gone