Suns president Lon Babby says he still expects Eric Bledsoe to stay
Restricted free agent Eric Bledsoe remains on the market, but Phoenix still expects him to return.
• 2 min read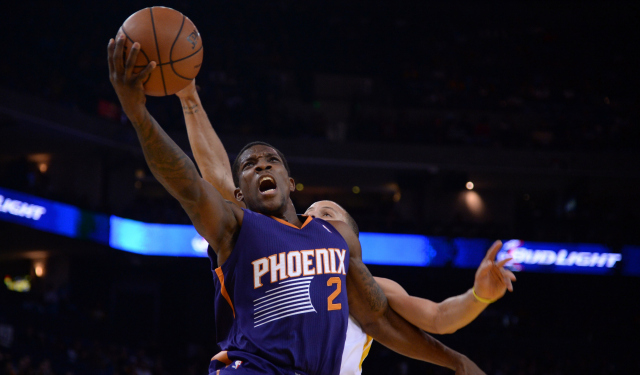 More Offseason Analysis: Coaching changes, news | Free Agency | Draft
Restricted free agent Eric Bledsoe is the best player left on the market, and he's in an odd position. While guys like Gordon Hayward and Chandler Parsons got huge offer sheets, he just waited. He's still waiting.
Phoenix acquired point guard Isaiah Thomas, and it immediately raised questions about Bledsoe's future. Phoenix Suns president Lon Babby said, though, that the team remains committed to keeping him around, via the Arizona Republic's Paul Coro:
"We'll continue to work as hard as we can within that restricted free agency system established by the collective bargaining agreement," Suns President of Basketball Operations Lon Babby said Monday. "We continue to hope and expect that he will remain in a Suns uniform."

The Suns have been negotiating with Bledsoe but also have the ability to match any offer sheet he might sign with another team. The Suns have offered a four-year, $48 million contract that is the equivalent of what free agency's other top point guard, Kyle Lowry, signed as an unrestricted free agent to remain in Toronto.

…

Philadelphia looks to be the only team that could offer a maximum-level deal and that seems unlikely after this much time, especially with Rookie of the Year Michael Carter-Williams as their point guard and the franchise apparently not being in a win-now mode with a young roster. Milwaukee considered being a suitor but has not been involved on him for a few days and has used chunks of cap space, adding Phoenician combo guard Jerryd Bayless and former Suns point guard Kendall Marshall to a point guard tandem of Brandon Knight and Nate Wolters.
Phoenix head coach Jeff Hornacek also spoke about Bledsoe coming back: 
"We expect Goran and Eric and Isaiah to be pushing the ball up the court like they did last year," Suns coach Jeff Hornacek said. "We'll swing the ball from side to side where Isaiah can come off and create a shot or a play. They're going to have to make decisions. If they double one of those two guys, we're going to move the ball around and that's when Anthony comes into play and drills 3s.

"You hear the three-headed monster about big guys all the time. Well, maybe we've got the three-headed monster in the guards."
Basically, four things can happen here:
1. Bledsoe can settle for a deal with the Suns
2. Bledsoe can sign an offer sheet
3. Bledsoe can sign the $3.7 million qualifying offer for next season
4. The Suns can work out a sign-and-trade
Option 2 seems less and less likely by the day, and Phoenix has shown no inclination to look at Option 4. If Phoenix won't budge on its price, Bledsoe might have to make a difficult decision. Is it worth making way less than market value for one more season in order to become an unrestricted free agent next summer? Is it worth risking injury or a down year?
This is the tricky spot where restricted free agents sometimes end up, even when they put up All-Star-caliber numbers. The Suns essentially scared other teams into not giving Bledsoe an offer sheet, and he'll probably end up losing a substantial sum because of it.
Show Comments
Hide Comments
Breaking down key matchups as the second season reaches the conference semifinal series

The second round of the 2017 NBA Playoffs tips off Sunday at 1 p.m. ET, with Game 1 of Cel...

The Spurs have homecourt advantage, and will host Game 1 Monday night at 9:30 p.m. ET
All-Star guard flew to Washington after Game 6 vs. Bulls to attend his sister's funeral Sa...

Some love for the Rockets over the Spurs, and at least one expert says the Cavs are going...

Ball is expected to be one of the top picks in the NBA Draft later this summer