Suns putting prospects through intense workouts
The Suns aren't going easy on draft prospects coming in for a visit, making them run and work, and the Suns are proud of that.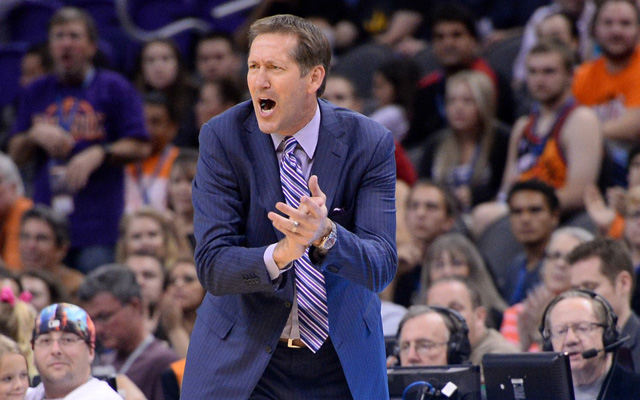 More Draft: Mock drafts | Draft news
The Suns are apparently putting their draft prospects in for workout through the ringer, pushing them in conditioning tests to make sure they're in shape to work in the Suns' up-tempo offense. From the Arizona Republic:
"We've had a number of agents tell us this is one of the toughest workouts — if not the toughest workout — on the predraft circuit," General Manager Ryan McDonough said Friday. "We take pride in that. We want our guys to be really well conditioned. If we want to try to get up and down the floor and lead the league in fast-break points and run teams out of the gym, you're going to have to be in shape."

McDonough's words were echoed by two of the six players the Suns brought in Friday. Washington shooting guard C.J. Wilcox said he ran more for Phoenix than he did for any of the other seven teams that have worked him out.

UCLA guard Jordan Adams said: "This was the toughest one I've been to so far with all the running, shooting and competition. There were a lot of competitive drills."
via NBA draft workouts for Suns getting tougher.
It's a smart move on Phoenix's part. You want to know if the guys you're drafting are ready to come in and go from the start or if they need conditioning to get up to speed. It's a key part of what Phoenix does and if you're going to be ready to contribute you need to be ready to run.
For all the talk of how useless workouts are, they're in part only as valuable as you make them. The Suns are making them valuable.
Show Comments
Hide Comments
Series prices show Dubs light years ahead

Green responded that he's 'the modern day Draymond Green'

Our experts predict whether the Jazz can compete with Golden State, along with the rest of...
Breaking down key matchups as the second season reaches the conference semifinal series

Pierce's 19-season run in the NBA ended Sunday as the Clippers bowed out of the playoffs

Utah overcame its relative lack of experience with a balanced, deep and versatile roster