Suspending Birdman the right call
The NBA did the right thing, and the only thing it could have done, in suspending Chris 'Birdman' Andersen for Game 6 of the Eastern Conference finals between the Heat and Pacers.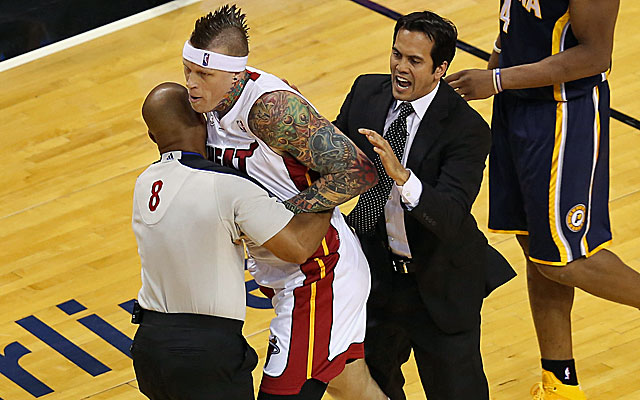 So Chris initiated an altercation with Tyler Hansbrough by decking him away from the ball for no good reason. Then, he escalated the altercation by puffing out his little chest, pointing to himself, and shoving Hansbrough after the two collided.  
Finally, he wouldn't go quietly, resisting referee Marc Davis' efforts to restrain him. About all the Birdbrain didn't do was disrobe right there on the court and flap his arms while strutting around, naked as a jaybird, on national TV.
Yeah, a suspension seems about right.
The NBA had no choice, really, but to suspend Andersen for Game 6 of the Eastern Conference finals. Birdbrain was lucky he got to finish Game 5 for the Miami Heat in the first place. He should've been ejected, which is what the NBA said Friday when it suspended him and upgraded his flagrant foul, penalty-1 to a penalty-2 -- which results in an automatic ejection under league rules.
After all this, I'm pretty happy I felt compelled to write this story earlier in the series. And after my flopping column resulted in Flop-a-palooza in Game 4, I'm starting to get a little bit worried that I can see the future.
I didn't have a strong feeling as to whether the league would suspend Birdman or not, but when you take into account the totality of his Birdbrain actions, it was a pretty easy call. Now, the Heat will be without a key big man off the bench, one who hasn't missed a field goal attempt in the series and who is shooting one million percent in the playoffs. They'll have to resurrect their Joel Anthony lineups from earlier in the season and see what happens.
As you recall, the Heat played Game 6 of the conference semifinals last season without Udonis Haslem and Dexter Pittman, who were suspended for flagrant fouls in Game 5 of that series. 
Suspending Birdman was pretty obvious. Even Braden, an 11-year-old Thunder fan from Salt Lake City sitting next to me on my aerial journey from Miami to Indianapolis on Friday night, knew it was the right thing to do.
"He should've been thrown out of the game," he said.
So now, he's been thrown out of the next one. Sounds about right.
Show Comments
Hide Comments
Our Latest Stories
The champs get even better with the addition of a veteran guard who can shoot

The diminutive Celtics star showed off his hops on Instagram

The little guy has a big gripe
Injured wing still gets paid, but his season becomes the victim of the DeMarcus Cousins tr...

Shaq says he understands Durant's motive but wants him to mind his own business

The Warriors are apparently concerned with how 'Shaqtin' a Fool' is impacting McGee's repu...