Swaggy benched: Lakers replace Nick Young with Xavier Henry in lineup
Lakers send gunner Nick Young to the bench, and start Xavier Henry instead.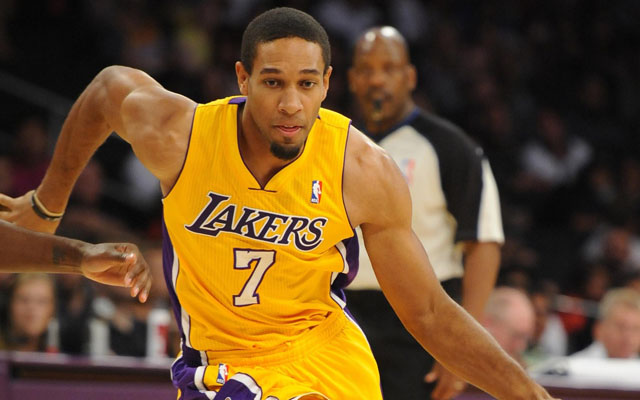 All the swag in the world does not a starter make. 
Lakers coach Mike D'Antoni announced Sunday that wing Xavier Henry would replace Nick Young, AKA Swaggy P, in the starting lineup Sunday vs. the Atlanta Hawks. 
"Just [trying] to find a better spot for Nick, maybe get a little bit more production out of him," D'Antoni said. "[Henry] has played as well if not better than anybody. There's no reason not to go ahead and do this and lengthen his time on the court a little bit."

Henry, 22, started 18 games in his first three NBA seasons. He accepted his promotion without any fanfare.

"I'm not too amped up or doing anything crazy," Henry said. "I'm going to do the exact same thing I've been doing."
via Xavier Henry to start instead of Nick Young for Lakers tonight - latimes.com.
Young is averaging just eight points on seven shots per game, shooting 27 percent from the field and 33 pecent from the arc. Meanwhile, Henry is averaging 13 points on 10 shots, shooting 40 percent from the field and 43 percent from the arc while nabbing four boards per game. 
So the decision, it is not difficult. 
Henry has come out of nowhere after being tossed aside by the Grizzlies and Pelicans. He stood out in Summer League and managed to nab a non-guaranteed deal on the Lakers' training camp but was by no means favorite to make the roster. Now he's become one of the Lakers' best players. We'll see how he does with a bigger role, and if a move to the bench sparks the gunner Young's scoring ability. Maybe he can throw the ball at the rim with more acuity.
Show Comments
Hide Comments
You play who's in front of you, and that's what Golden State did -- and beat everyone it f...

This is the first sweep the Spurs have suffered since 2010

Pop doesn't know whether Manu Ginobili will retire, but he wanted to give him a proper salute...
San Antonio doesn't know what will happen with Manu Ginobili and Patty Mills this summer

Our experts predict every series in the 2017 NBA playoffs

Check back here for all of the conference finals results from the NBA playoffs