Taylor: Adam Silver has signed NBA commissioner contract
According to Minnesota Timberwolves owner Glen Taylor, Adam Silver has signed his contract to be the next NBA commissioner.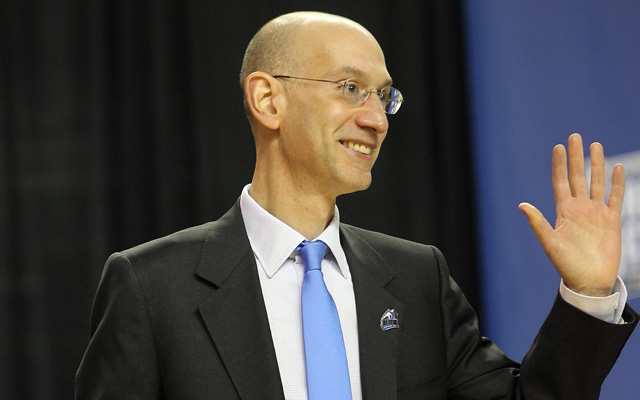 MINNEAPOLIS -- After announcing that he won't be selling his team just yet, Minnesota Timberwolves owner Glen Taylor addressed reporters about the excitement he has for his organization and the future of the NBA. That future includes Adam Silver as the next NBA commissioner. According to Taylor, Silver signed his contract Friday to be the next commissioner of the league.
"I see some really positive things, other than this here, that are going to happen to this organization in the future and the NBA," Taylor said. "I've worked really hard with Adam Silver over the years. He signed his contract today, finally, that he'll be the next commissioner. He just did that today and he called me. I'm excited about that. I know him; I know our future of the NBA."
An NBA spokesman had no comment on Taylor's remarks. However, a league source with knowledge of the deal confirmed Taylor's remarks to CBSSports.com, describing it as "a formality."
Back in October 2012, David Stern announced that he was going to step down as commissioner on Feb. 1, 2014, after 30 full years of holding the job. At the time of the announcement, it was also noted that the Board of Governors unanimously voted to negotiate with Silver, the deputy commissioner, to replace Stern. Taylor was the chairman of the Board of Governors for the NBA from 2008 to 2012. Peter Holt, owner of the San Antonio Spurs, was elected as the new chairman in 2012.
For years, it has been assumed that Silver would be the natural successor to Stern. Silver has been the deputy commissioner for the NBA since 2006 and has worked with the NBA since 1992. 
The NBA is currently under contract with the National Basketball Players Association through the 2021-22 season, but there is an option for either side to opt out after the 2016-17 season. When/if that happens, Silver will be the lead negotiator for the owners while attempting to work out a new agreement with the union.
He will also be in charge of negotiating the next national television deal that is up in 2016, when networks will bid to carry the broadcasting rights for the NBA. The current deal with ABC/ESPN and TNT pays the NBA roughly $930 million per year to broadcast its games. It was negotiated at a time in 2007 when NBA television ratings were much lower than what the league pulls in today. A successful negotiation by Silver and the next broadcasting partner(s) is expected to significantly increase the league's media revenue.
Show Comments
Hide Comments
Our Latest Stories
The struggling Clippers suffered a horrific loss to one of the worst teams in the league

Stephen Curry and co. face the Rockets (twice!), Spurs and Wizards this week

And the good times roll for Golden State
The Celtics, not the champion Cavs, get the Eastern Conference's top seed; Warriors in Wes...

Since Kevin Durant went down, Iguodala has been the Warriors' best player, and he was terrific...

The No. 1 overall pick alley-oops off the glass to himself in spectacular fashion