Team USA clobbers Dominican Republic at FIBA World Cup
Team USA kept up their winning ways on Wednesday.
• 2 min read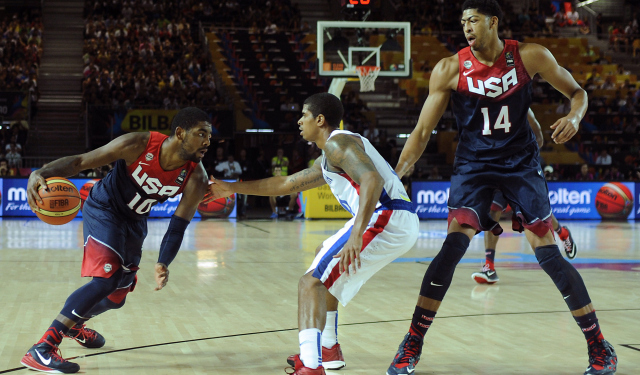 What happened: Team USA started slowly yet again, but coasted to a 106-71 victory over the Dominican Republic in the FIBA World Cup on Wednesday. It was only a 25-22 lead after one quarter, but Team USA did what it had to do later on to create the sort of separation everyone expected. The win means they've clinched first place in Group C.
Considering that the Dominican Republic sat Francisco Garcia to rest his sore ankle before facing Turkey on Thursday, Team USA could really have won by more. In an exhibition game a couple of weeks ago, Team USA beat this team by 43 points.
Kenneth Faried finished with a game-high 16 points and six rebounds, and Anthony Davis had 10 points, seven rebounds and five blocks. Team USA's starters, particularly the frontcourt, have been unstoppable so far in the tournament. Guard Victor Liz led the Dominican Republic with 15 points.
There are some areas of concern here, despite the steady stream of blowout victories. Team USA has been consistently sloppy early in games, and they're going to need to clean things up for when the competition gets stiffer. The final score obscured some silly offensive miscues and poor defensive decisions. Team USA deserves credit for upping its intensity later on — they went on a 22-0 run! — but it's fair to want to see them play a full 40 minutes that way. They'll need that against Spain.
Derrick Rose still hasn't had that breakout game. He didn't look bad in this one, but we're all waiting for him to assert himself more. In 13 minutes, he had six points and three assists. There was a lot of talk during training camp about him slowing down and picking his spots. So far that's manifested in some nice passes, but that's about it.
Three stars
1. I'm getting a little tired of praising Kenneth Faried, but he deserves it. Faried shot 8-for-11, bringing his total to 29-for-36 in the World Cup. How crazy is that? Most of his offense comes off putbacks or in transition, but he also had a nice spin move in the post. That's the sort of stuff he was showing in Denver toward the end of last season.
2. DeMarcus Cousins is giving his all. Yeah, he's making mistakes on defense, but he's been active and as aggressive as possible. Cousins had 13 points, five rebounds, two assists and six steals in just 12 minutes. He made all five of his field goal attempts.
3. DeMar DeRozan may be earning himself some more playing time. He entered the game in the first quarter and ended up with 11 points (on 5-for-8 shooting), two rebounds, two assists and three steals. DeRozan showed patience and an ability to pick his spots on offense, though he did turn the ball over five times. There was also this:
What's next: Team USA finishes the group stage against the Ukraine on Thursday at 11:30 a.m. ET. 
Show Comments
Hide Comments
Kyrie Irving went nuts in Game 4 and capped it off with a nasty highlight

Boston is better on defense without Thomas, but it obviously missed him in the second half...

The Cavs are up 3-1, in part thanks to Irving's astonishing performance.
Maybe the best player of all-time has his best season, and he's not even in the discussion...

Cleveland took a 3-1 lead on Boston and will look to close it out Thursday

Boston had a 16-point lead at one point