The 2013-14 NBA All-Weird Teams
The weirdest rosters in the NBA for the 2013-2014 season, starring the Cavaliers, Kings, Suns, and Pelicans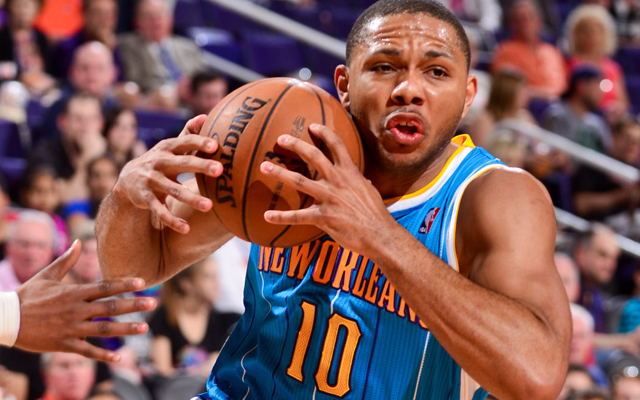 Some of these teams seem really weird right now.
They won't in a few months, after watching them on League Pass becomes routine, when the combinations fail to surprise or intrigue. It'll be just another lineup in just another game in mid-December as the slog of 82 games rolls on. But for right now, fresh off their formation, they feel downright bizarre.
Typically when we talk about an NBA roster, we only use a binary descriptor. Good, or bad. This roster is good, it will win games. This roster is bad, it will not win many.
Then we move to comparing rosters within the same range of wins.
But maybe one of the really wonderful and overlooked elements of the NBA regular season is there are certain teams that are just strange, by accident or design.
Take the New Orleans Pelicans .
And not just that new name.
New Orleans decided to try and jump a few steps ahead in the rebuilding process. They took advantage of the emerging market for 2014 picks and were able to pick up All-Star Jrue Holiday . OK, fair enough, point guard was a position of need for them despite Greivis Vasquez ' exceptional play last season, especially defensively.
Then things got truly strange. The Pelicans signed athletic guard Tyreke Evans in restricted free agency from Sacramento. The Pelicans put up $44 million over four years to get Evans, despite having Holiday at $9.2 million and keeping  Eric Gordon at $14.3 million next season. That's $34.7 million next year for three guys in one backcourt.
What in the Pel(icans) are they doing? (I'm sorry for that pun. It was unavoidable.)
But wait, there's more!
Anthony Davis is still, and maybe always will be, a power forward, yet the Sacramento Kings traded Robin Lopez to the Blazers. So either Davis is starting at center alongside Sixth Man of the Year candidate Ryan Anderson or the Pelicans are starting Jason Smith .
You can theoretically play Evans at three, but all evidence from his career suggests that a) he's best with the ball in his hands and b) he's not big enough to defend threes in the NBA.
So you're looking at Holiday-Gordon-Al Farouq-Aminu-Anderson-Davis with Evans, Austin Rivers , and Smith off the bench, or Holiday-Gordon-Evans-Anderson-Davis, or Holiday-Gordon-Evans-Davis-Smith with Anderson off the bench.
That's just weird. It's a spot-up shooter stretch four who rebounds next to an undersized five, a ball-handling combo guard in a sixth-man role being paid $11 million, and Austin Rivers, Greg Stiemsma  and Anthony Morrow running around doing things.
Again, it's not that this roster can't succeed. They have good players. It's just a weird set up to define a weird team in a weird place.
You want more odd?
How about the Kings?
Oh, they moved Tyreke Evans! So now their backcourt will make sense. Wait, no.
Isaiah Thomas , Greivis Vasquez, Ben McLemore , Marcus Thornton , Jimmer Fredette , John Salmons (theoretically), Ray McCallum. Seven guards!
But at least almost all those guys are young and still developing. So they're just a young team with a lot of guards ... until you get to their frontcourt. Yes, DeMarcus Cousins is the star, but they brought in Carl Landry in free agency and have Jason Thompson and Chuck Hayes on the roster. Oh, but they also have talented stretch four Patrick Patterson .
There could very well be a lineup next year featuring this: Vasquez-Thornton-Luc Richard MBah-A-Moute-Patterson-DMC. Or Thomas-McLemore-Salmons-Thompson-Landry. Or Fredette-Thornton-MBah-A-Moute-Hayes-DMC.
What is that? (Besides bad.)
I'm not saying this is a bad thing overall. The Kings are set up to be really interesting next season, especially if Mike Malone can make an impact. But their construction doesn't fit together stylistically. A lot of this has to do with new GM Pete D'Allessandro still getting his feet wet in Sacramento and getting a new plan started.
Still, get ready for some bizarre mixing and matching as the Kings try to find a rotation.
Cleveland makes this list as well, but that's mostly from a developmental standpoint. Is Dion Waiters a ball-handling two who needs to complement and take the load off of Kyrie Irving , or is he a spot-up shooter and slasher who will benefit from a bigger step forward by Irving? Their frontcourt is jammed. Undersized power forward Anthony Bennett joins Tristan Thompson who took big steps forward last season, All-Star candidate Anderson Varejao , and big free-agent signing Andrew Bynum . Will Bennett benefit from the attention Bynum's size draws? Will Thompson get lost in the rotation? Who's running pick-and-roll with Irving, and who's staying weak-side to clean up on putbacks?
Oh, yeah, and how about Jarrett Jack ? Is Jack going to play the same crunch-time role he played in Golden State, alongside Irving, with Waiters at the three? Does Sergey Karasev make Alonzo Gee and his $3.25 million with a nonguaranteed 2014-15 season expendable? Can Waiters play the three? What about Tyler Zeller ? No, I'm serious, what about Tyler Zeller?
Asking these questions makes it come off as criticism, that the teams are badly made, but in reality, in all three cases you can view them as contingency plans. If one prospect doesn't pan out or if one veteran gets hurt, they have options.
The Cleveland Cavaliers aren't sunk if Varejao goes down again or if Bynum continues to be unable to play, only if both of those things happen, and even then, the worst case is a youth movement down low with Bennett and Thompson. If Isaiah Thomas isn't the same under Mike Malone, they have creating guards and wings to pick up the slack.
Still, weird teams are rarely identified as great teams. Outside of the Miami Heat , it's seldom you look at unconventional role fits and are able to predict success. Luckily, these teams aren't burdened with extremely high expectations, only the demand that they will be "better than dreadful." Plus, better-than-dreadful shouldn't be that hard to reach, at least for Cleveland and New Orleans. Everything else is gravy.
But there is one team who will be both comically bad and gloriously fun in how strange they are. Phoenix is set up to have one of the most entertainingly bad rosters in the league last year, able to tank away the season while showing they have really talented players.
The addition of Eric Bledsoe creates a weird duo with Goran Dragic ( Kendall Marshall is about to turn into a "Where's Waldo?" game). Can you play the two together? There's a good chance, given their particular skills, but it's still an odd, undersized, mega-sparkplug combination. The Phoenix Suns expect to get Channing Frye back, which is an interesting wrinkle. Gerald Green , fresh off the plane from the Scola trade, gives them an athletic wing, and both Markieff and Marcus Morris showed things last season.
Shannon Brown , Marcin Gortat , Caron Butler , they have all this athleticism, all these different skillsets, and no real core to rotate their team around. The Suns are like a meteor shower. Not pulled into any gravitational rotation, just speeding through the NBA universe on their way to the 2014 draft. But they sure are bizarrely interesting, and that's before you bring up Michael Beasley .
Some of these concoctions will turn out to be holdovers while the teams continue to make trades to reshape the roster. Some will develop into completely reasonable rotations that won't seem weird on those cold February Tuesday games in Milwaukee. Some will be train wrecks. But you have to admit, even if it's just like watching peacocks strut around the zoo, these teams are interesting if nothing else.
Show Comments
Hide Comments
James has said he doesn't feel he has anything left to prove

How they match up with what each team does well, and poorly, headed into the big battle for...

LaVar Ball will be happy with this futuristic mix of his son in Lakers gear
LeBron had some high praise for his coach

The King had some high praise for Warriors' "new" addition

LeBron and the Cavs are looking for their second straight title