The 2014 NBA Draft lottery representatives
This is the one time when Julius Erving, James Worthy, Kyle Singler and the Morris twins are all on equal footing.
• 1 min read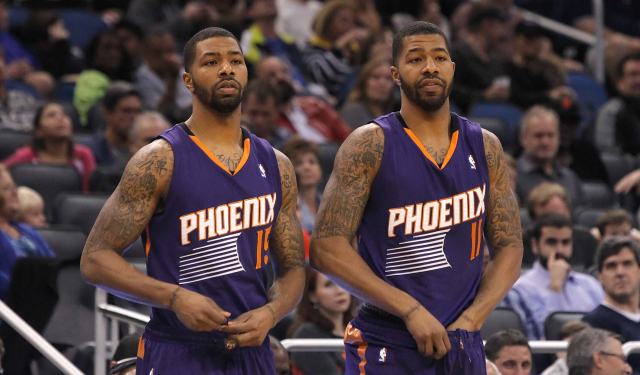 More Offseason Analysis: Coaching changes, news | Free Agency | Draft
Tuesday night is the 2014 NBA Draft lottery. It will air at 8 p.m. ET on ESPN, and there will be the usual assortment of executives, coaches, current players, former players and relatives of executives on stage to represent the teams involved, minus Cavs owner Dan Gilbert's bow-tied son. Here's the full list, ordered from most likely to least likely to win the lottery:
1. Milwaukee Bucks : Mallory Edens (daughter of new co-owner Wesley Edens)
2. Philadelphia 76ers : Julius "Dr. J" Erving (NBA legend, obviously)
3. Orlando Magic : Pat Williams (co-founder, four-time lottery winner with Sixers and Magic)
4. Utah Jazz : Bryan Miller (son of owner)
5. Boston Celtics : Stephen Pagliuca (co-owner)
6. Los Angeles Lakers : James Worthy (NBA legend, who plans to bring three bobbleheads with him)
7. Sacramento Kings : Anjali Ranadive (daughter of owner)
8. Detroit Pistons : Kyle Singler (forward, claims to be "fairly lucky guy")
9. Cleveland Cavaliers : David Griffin (general manager, will consult with Nick Gilbert but "does not anticipate wearing a bow tie") 
10. New Orleans Pelicans : Dell Demps (general manager, has a less-than-four-percent chance of keeping his pick because of the Jrue Holiday trade)
11. Denver Nuggets : Brian Shaw (head coach)
12. New York Knicks : Nobody, because this pick is either going to Denver or Orlando.
13. Minnesota Timberwolves : Milt Newton (general manager)
14. Phoenix Suns : Marcus Morris and Markieff Morris (twins, forwards)
Jared Sullinger wants back in the NBA; he knows his weight will play an important part

Cleveland is one of Rose's biggest suitors, and the Irving situation could lead to an even...

Five years later and Celtics fans continue to throw shade -- Allen later deleted the comme...
Irving has a desire to team up with Butler dating back to June

Apparently, Irving first asked to be traded in June in hopes of joining Jimmy Butler in Ch...

Despite Melo being a good trade piece for the Knicks on paper, he has his sights set on joining...