The 4-Point Play: Trying to quell the storm of Tyson Chandler
Welcome to the 4-Point Play. Every Thursday we'll give you a look at what's happening in the league, provide some odds and ends, the best photos, and our Memes of the Week.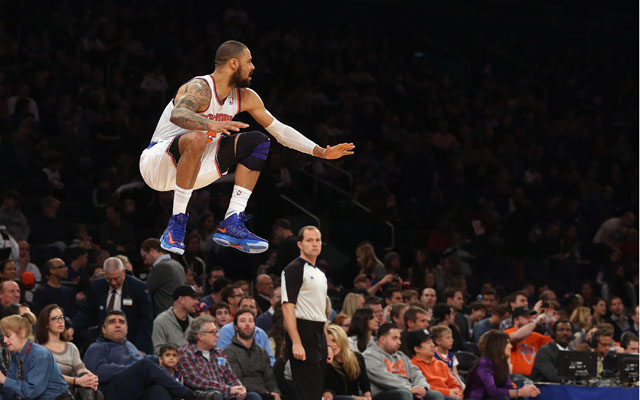 The Heat face a big challenge from Chandler Thursday.
(Getty Images)
Welcome to the 4-Point Play. Every Thursday we'll give you a look at what's happening in the league, provide some odds and ends, the best photos, and our Tweet of the Week. This week our discussion begins with Miami's pressure defense.
Thursday night's Knicks-Heat marquee matchup on TNT (now featuring actual NBA-quality starters!) will be billed in the traditional Carmelo Anthony vs. LeBron James narrative. The two superstars who entered the league together have long had a rivalry conceptualized around them, despite their close friendship, and honestly, the fact that that Anthony has never quite been on James' level.
This year might be the first time that narrative could ring true, given Anthony's superb play this season.

Behind that, though, is a much more interesting tactical game to be played out, and for the first time in a long time, the Heat might enter at a statistical and tactical disadvantage, based on a key factor.

Miami can't defend anybody right now.

The Heat are 20th in defensive efficiency, a massive number that doesn't even really reflect the troubles they've had at that end. But what's interesting, particularly against the Knicks Thursday, is that their one strength defensively could be vital against New York.

The Knicks rely on ball-rotation and smart, sharp play this season, a far cry from the ISO Melo offense we expected. But a cornerstone of what they've been able to do is their pick-and-roll offense. Raymond Felton, who had shown a lot of potential in the set with Amar'e Stoudemire back in 2010 before he was traded, has really become great at using lob partner Tyson Chandler.

Meanwhile, Miami is ranked 21st in defending the ball-handler in the pick and roll, via Synergy Sports, but also allows the third-fewest attempts per game in that set. Meanwhile, when defending the roll, Miami is the third best team in defending the big and 12th in allowing shots in that set. Let's take a closer look at how this matchup works out.
Under Video Review
by Matt Moore
Take a look at how Felton's knowledge of the set allows him to get Chandler open here.


By losing the defender and forcing the help to step up, that frees Chandler to head to the rim. But it's not just the lob you have to worry about, as the Heat found out when their help defense broke down.



But, like I said, when Miami's engaged, its pick-and-roll defense can be stifling. Take a look at what it did to two different sets for the Wizards late in the game, which nearly cost the Wizards a precious victory.


Now having Felton and Chandler vs. Martell Webster and Nene is going to help there, but the point stands that when the Heat are trapping and helping effectively, they can limit the most dangerous set in basketball. The key is getting containment on Felton, but Miami can't sick LeBron on him, with Shane Battier likely out and Anthony floating on the wing or in the post. With Mario Chalmers out, Norris Cole and Dwyane Wade will have to pressure Felton -- not exactly a favorable matchup for Miami.
And on the inside, the Heat have to find ways with their small-ball lineups to contend with Chandler. That's a whole other problem. But in general, the Heat have the ability to systemically attack the pick-and-roll defense well.
They'll need that on Thursday night against the Knicks.
Picture Perfect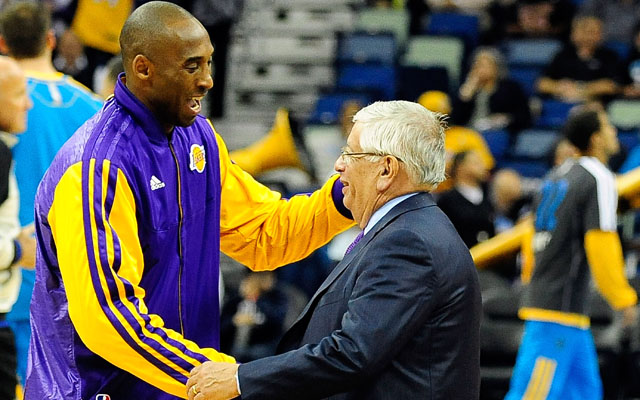 Kobe Bryant crossed the 30,000 points mark on Wednesday.
(Getty Images)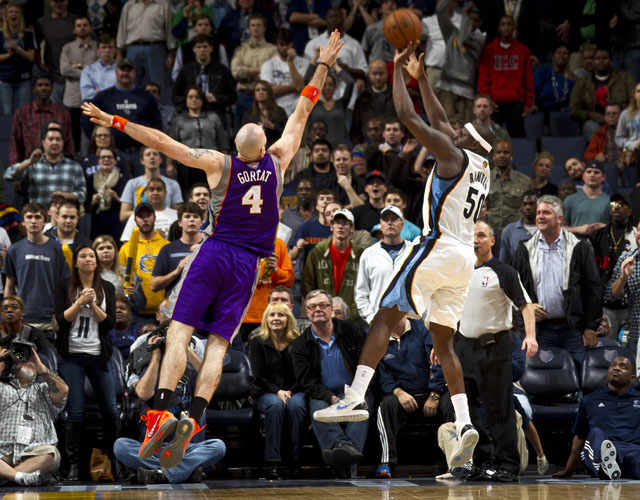 Good Job, good effort, Marcin Gortat.
(Getty Images)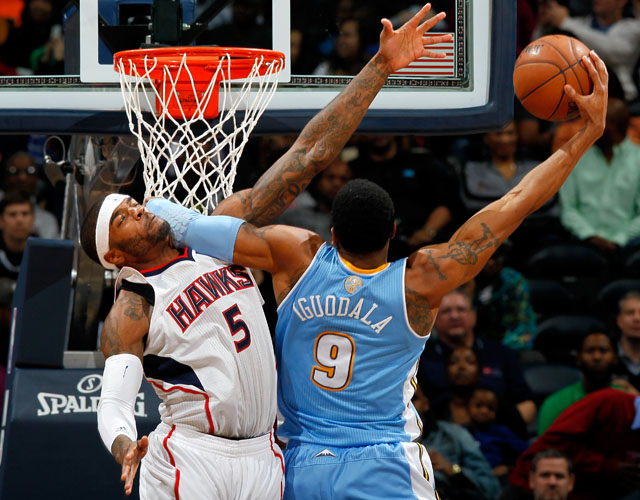 Damn, son.
(Getty Images)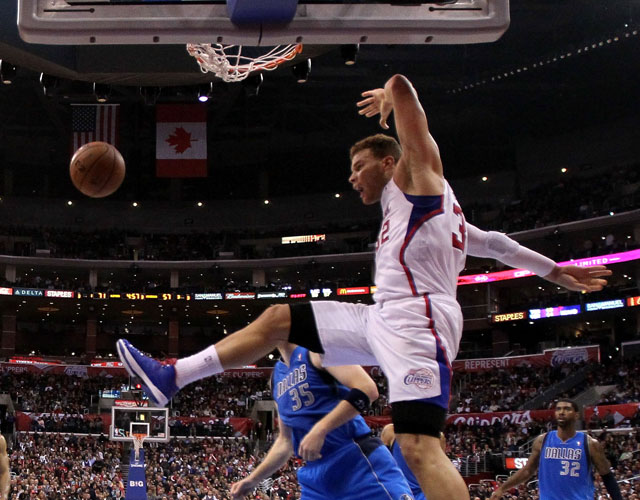 Crane technique is the most effective technique, Daniel-san.
(Getty Images)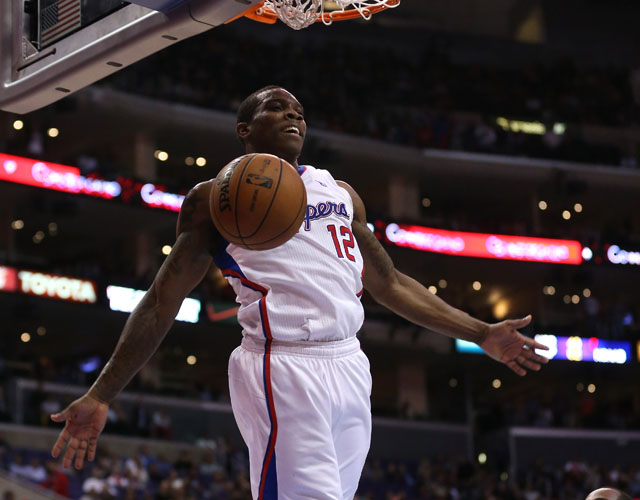 "Fly like an eagle."
(Getty Images)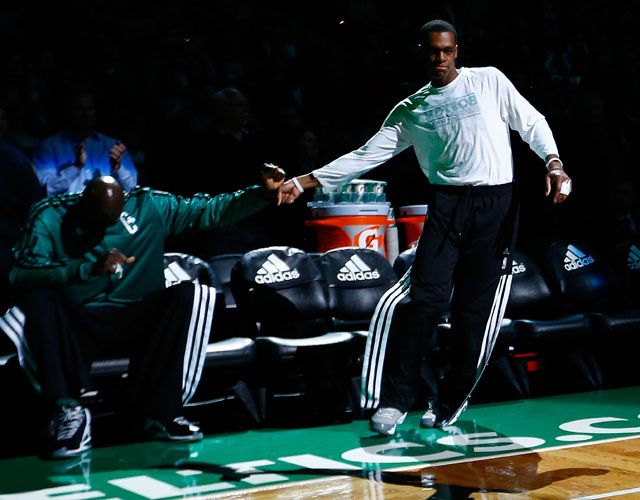 Brothers.
(Getty Images)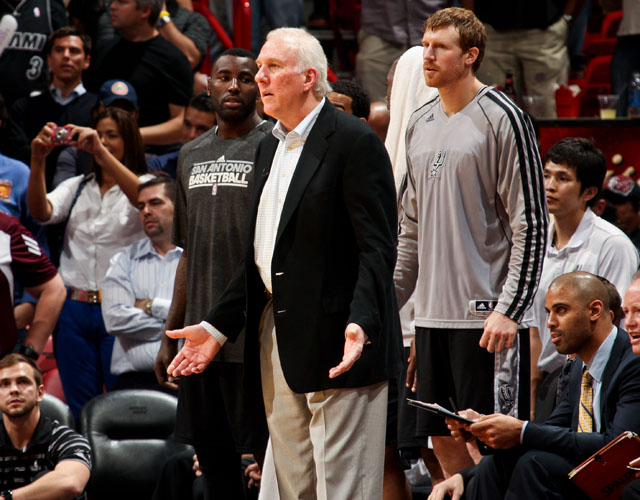 Gregg Popovich can't believe these are the players he played against Miami.
(Getty Images)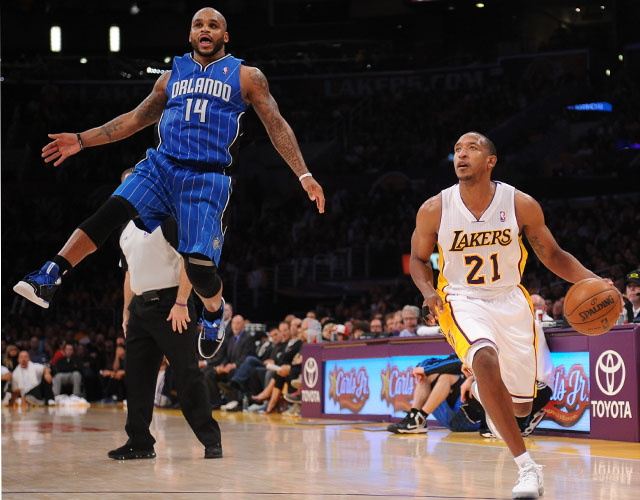 Jameer Nelson practicing for the next Olympic triple-jump competition. 
(Getty Images)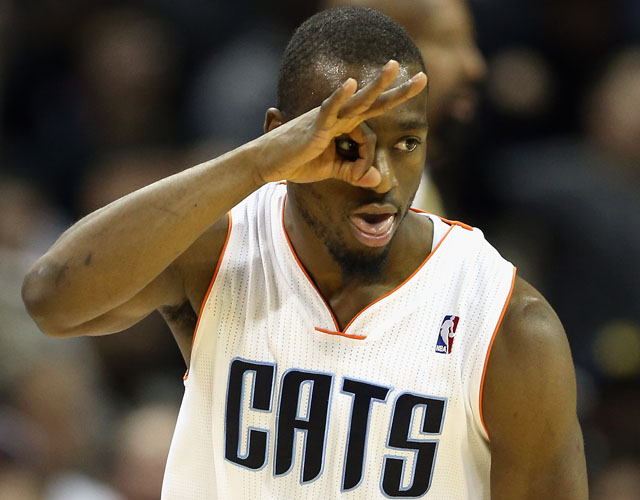 Kemba Walker has had a strong start to the season, but no points in the final seconds against the Knicks.
(Getty Images)
Locker Talk
"Of course! Take [Juan Carlos] Navarro and [Kobe] Bryant, for example. Both are superstars, but there's a difference. Playing against Navarro you know that you need to deny him the open shot and his trademark 'La Bomba.' But how do you defend Kobe, who knows how to do absolutely everything?" -- Alexey Shved on playing defense in the NBA vs. Europe, via Zach Harper, CBSSports.com.
"I haven't had healthy players." -- Rick Adelman on if he would rest healthy players like Spurs coach Gregg Popovich did, via Zach Harper, CBSSports.com.
"It's still very hard for me. He's one of my best friends and I think most people in basketball know that. I'm mad at him, I'm angry at him, there are a lot of emotions going around in my head. I have to figure out how to celebrate our friendship for the rest of my life. An incredible friend. He treated me like I was his brother. My son called me and said 'He was part of our family.'" -- Nuggets coach George Karl on the passing of friend Rick Majerus, via Matt Moore, CBSSports.com.
"I think JaVale's about six or seven-minute guy. About seven minutes is the most we think we can play him at a time without him getting tired." -- Karl on limiting JaVale McGee's minutes, via Matt Moore, CBSSports.com.
"I'm going to fire my free-throw coach and also my layups coach." -- Karl on the Nuggets' struggles with easy shots, via Matt Moore, CBSSports.com. (There are no layup or free throw coaches for the Nuggets.)
MEME(S) OF THE WEEK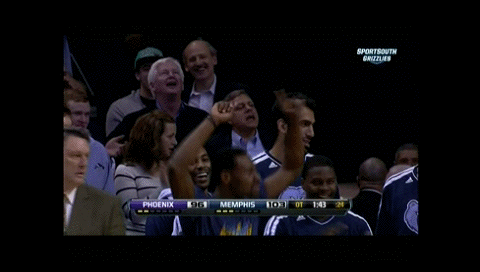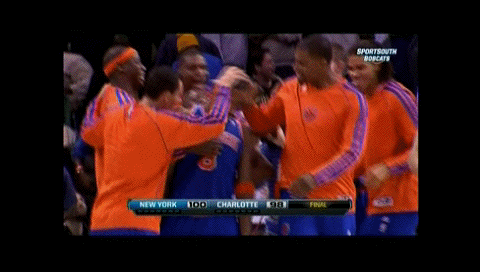 Show Comments
Hide Comments
How do the Cavaliers flip the script for a second straight year?

Boston lacks the size, rebounding and rim protection necessary to take on bigger lineups

What happens when the Death Lineup comes in? Can Kyle Korver keep it up?
Fox is widely considered a top 10 prospect in the NBA Draft

This looks strikingly familiar, huh?

A very familiar Finals showdown is set to begin on June 1