The development of Bradley Beal is the development of the Wizards
Bradley Beal's development with just two seasons under his belt has turned the Washington Wizards into a dangerous playoff team.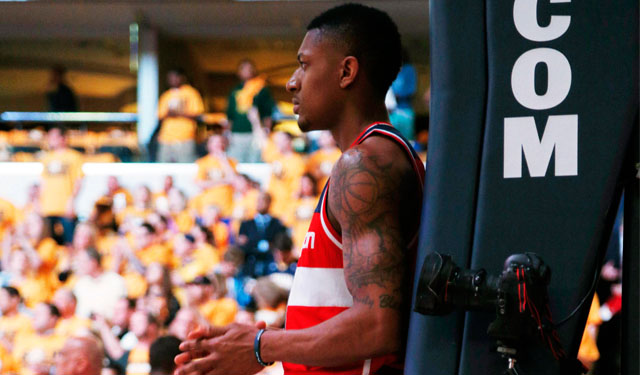 More postseason: WAS 102, IND 96 | Playoff schedule, results | Latest news, notes
The results weren't there right away but the promise was evident.
As we tried to learn as much as we could about the 2012 draft prospects, we'd hear what a great shooter Florida guard Bradley Beal was, but his 3-point percentage said otherwise. He was just a 33.9 percent 3-point shooter in his one year as a Gator, and yet he was lauded for his incredible shooting stroke. The reason for this was the experts weren't going to be dissuaded by just 186 attempts when the shooting stroke itself looked so good.
Get Beal more comfortable at these higher levels of competition and he'd likely break through the production barrier. It's not like he was a bad player, either. The shooting and ball handling abilities looked to be part of a legitimate NBA skill set capable of producing at a high level. It's a big reason he was selected third in the draft by the Washington Wizards and nobody questioned whether it was the right decision.
Teaming Beal up with John Wall has helped him see the path of development as well. Wall came in with quite a bit of hype and had to figure out the speed of the game and the spacing of how a defense defends you to truly begin to have a team-wide impact, rather than just be an individual player. Wall's experiences could become Beal's experiences, only he would have much less pressure to develop as quickly as critics wanted his backcourt mate to do.
The development was on full display in Game 1 of the second-round series against the Indiana Pacers. A fearless and hungry Wizards team wasn't worried about a sea of "Gold Swagger" shirts in the crowd, a road environment or a team that dominated them defensively much earlier in the season. This is a Wizards team improving at all times and peaking when most people wondered if they'd be in awe of the big stage. At just 20 years old, Beal showed not even the youngest of core players would be overwhelmed by the task or stage at hand.
The attack is brilliant, really. John Wall puts the pressure on the defense and breaks them down. Trevor Ariza hits shots early and stretches the floor. Nene and Marcin Gortat provide the muscle inside and some solid work around the rim. And Beal is left out there, reading everything that goes on and being the offensive Trojan horse for Washington. He's waiting to attack, to show off that perfect shooting form when the defense seems least prepared to handle his onslaught.
It's a feel for the game that's quite astute but still in development. That's a terrifying thought for the rest of the league. What happens if he catches up to Wall's development? Is there any doubt that this is quickly becoming the best backcourt in the NBA, if not knocking on the door already? His 25-point, 7-rebound, 7-assist, 5-steal performance in the Game 1 victory over the Pacers was the perfect example of how stealthy his game can be.
Beal scored 14 of his 25 points in the fourth quarter when the Pacers had begun to keep the gap close and were looking to pounce for one more run. With 10:36 left in the fourth, Indiana cut the deficit to eight points. Beal was then responsible for the next 12 points, scoring 10 of them and assisting on the other bucket. He was answering every basket the Pacers poured in during that stretch, keeping the margin consistent and never relenting on what was supposed to be Indiana's final push to avoid another frustrating loss.
The shooting stroke was pure, like it was advertised during the predraft coverage of his class. The 33.9 percent from the college 3-point line was but a mere afterthought, as he was now a career 39.6 percent outside shooter and working on a playoff 3-point percentage of 48.1 percent. As he was dropping big shot after big shot, like we saw during the opening round series against the Bulls, we were reminded often that this poised scoring threat is only 20 years old.
As he develops with Wall more during the next few years, so will the threat of this Wizards team. It won't matter which current veterans they extend or which players they bring in. They have a lead guard capable of taking over games in Wall and a shooting guard sidekick for him that is prepared to take over at any point of a key game.
The results weren't there right away when he first entered the NBA, but now they're as evident as his vast skill set and his incredible, growing understanding of what being a weapon in the NBA is all about.
Show Comments
Hide Comments
Our Latest Stories
It's another setback for Brooklyn's key offseason acquisition

Golden State is surging while teams like Utah, Atlanta, Dallas and Detroit are rolling as...

Golden State is looking to extend its win streak to eight games
Golden State has found a winning balance lately

The Lakers lost 122-73 to the Mavericks on Sunday

Curry passes Kings great Peja Stojakovic