The InBounds: Reports say Memphis could trade Rudy Gay; should it?
Reports indicate Memphis is considering trading Rudy Gay.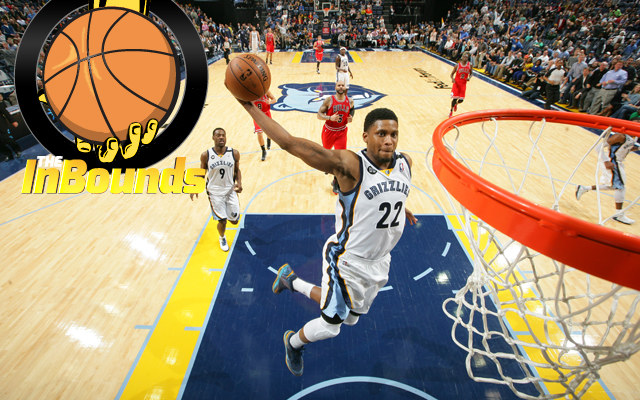 Rudy Gay might be flying elsewhere soon.
(Getty Images)
It has been a long time coming, but Memphis apparently has reached "that point" with Rudy Gay. Or, perhaps more accurately, new ownership has reached "that point" with its luxury tax situation. ESPN's Grantland reports that, after years of speculation, the Grizzlies are shopping forward Rudy Gay. 
All of this explains why Memphis, over the last few weeks, has made it known in preliminary talks with other teams that Rudy Gay could be available via trade, according to sources around the league. Memphis also has a brand-new ownership and a revamped front office; John Hollinger and Jason Levien are in, longtime personnel gurus the Barones are out, and Chris Wallace's current level of power as holdover GM is unclear. They can also cite their exciting 2011 playoff run without Gay, though that run involved a superhuman performance from Zach Randolph, a very good matchup in San Antonio, and a much deeper wing core with actual shooters.
(via The Rudy Gay Dilemma: If Hes Dealt, Where Will He Land? - The Triangle Blog - Grantland)
For Gay's part, he's sticking to the line that he doesn't think he'll be traded. It's the best approach to take. 
"As of right now, yeah, I do," said Gay, when asked if he believes he will finish out the season in Memphis. "I do. Nobody has said anything to me about it, so I do."
(via Amid trade talks, Grizz star Rudy Gay expects to finish season in Memphis)
Grantland breaks down the options for a trade pretty well, but the concerning part regards the reasons behind the move. 
When Robert Pera and his cadre of owners took hold of the franchise, it was billed as an exiting turn toward a more aggressive and younger ownership group. Former owner Michael Heisley had been billed for years as "cheap" until he ponied up and paid for the extensions for Gay, Randolph, Marc Gasol and Mike Conley. We can now assume that he never intended to pay the sizable bill for it. 
But instead of an ownership group focused on finding metrics-oriented options to solve problems or looking to move Gay -- who has struggled this season posting just an average 15.2 PER (the same metric invented by new advisor Hollinger) -- for basketball reasons, the tone seems more about saving money.
Don't get me wrong. The Grizzlies are a business. And after doling out $377 million to get the team in the first place, despite long-standing concerns about the financing of the deal, you can understand them not wanting to bleed money immediately.  
But there are indications from several sources that the team is saying a move for financial reasons is justifed because the team isn't a title contender. And that's just off. Memphis got out to its best start in franchise history. And despite a recent swoon back to just-above-average, their season resume in whole is brilliant. They have interior post play, good rebounders, competent-to-great point guards, amazing defense and tremendous chemistry. 
They're a title contender. Yes, it's an outside shot, but that's what you get when you're Memphis, Tenn., in a league dominated by Los Angeles, Boston, New York, Miami and Chicago. You gear yourselves up as tough as possible, secretly exceptionally talented and hope the matchups turn out right. In 2011, they nearly did, with a brutal seven-game series loss to OKC keeping them from a favorable matchup with Dallas. In 2012, it was a bizarre, nearly impossible collapse in Game 1 vs. the Clippers that they never recovered from. 
The West is insanely difficult. But Memphis has a shot. 
Trading Gay is ... a complicated idea. Yes, he has frustrated fans to their wit's end. And, no, he has not come nearly close enough to the level of player that he was paid to become in 2010. But without a perimeter creator, an athletic wing threat, the Grizzlies' offense looks entirely different. If they can get a wing with any competent set of skills and a shooter to help their miserable perimeter attack and save money, then, fine. But in the meantime, the offers being examined are in the range of "Hey, here are some terrible players on cheap contracts! Woo!" 
The city of Memphis took a long time to embrace this team. When it finally did, it fell hard for the hardworking, blue-collar team that they've become. A move by new ownership to immediately downgrade the team to save that $8 million and change (the Grizzlies are currently over the luxury tax line by $4 million) is going to send a bad signal. Being more efficient and making the smart moves is great, if it measures one very important element: this team works. 
In the race for an NBA championship, we've learned time and time again that you don't try to fix something that isn't broken. You tweak it, you adjust it, you slide in better components and there are reasons to suggest that can happen with this deal. (I should note that I'm particularly fond of a Monta Ellis/Mike Dunleavy/Ekpe Udoh combination works for Gay, Jerryd Bayless and one of their stretch 4's deal.) But breaking up a combination that works, from every conceivable results-oriented approach (and I'm never big on those) because you don't believe in something that's working? 
That's risky business. Rome wasn't built in a day. But when the Barbarians came calling, it fell much faster. 
Show Comments
Hide Comments
Game 1 of the 2017 NBA Finals tips on June 1

LeBron reflects on emulating Michael Jordan growing up, but one thing he couldn't quite co...

Check back here for all of the conference finals results from the NBA playoffs
The Cavs clinched the series by winning Game 5 by 33 points in Boston

'I wear the number because of Mike'

Our experts predict every series in the 2017 NBA playoffs