The Inbounds: The Westbrook Frenzy
The Inbounds focuses on one element, thought, question, or joke in the league. It appears daily Monday through Friday on CBSSports.com. Congrats, LeBron. You're in the clear. We've found someone else to shred like raw T-Bones among dogs.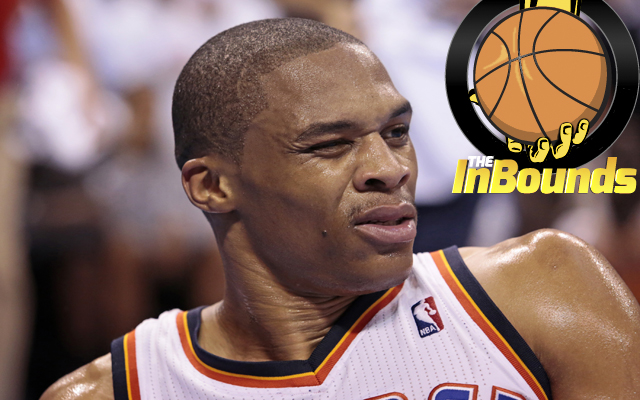 Not a good look for Westbrook Thursday night.
(Getty Images)
The Inbounds focuses on one element, thought, question, or joke in the league. It appears daily Monday through Friday on CBSSports.com.
Congrats, LeBron. You're in the clear. We've found someone else to shred like raw T-Bones among dogs.
For three years, LeBron James was the most divisive figure in the NBA, taking the mantle from Kobe Bryant after his Cavaliers were ushered out of the playoffs by Dwight Howard and the Magic (you remember the Magic, the Finals team that Dwight Howard was already plotting on bolting because he loves winning so much). His 2010 playoffs performance set off a frenzy about his "quitting" in the decisive game vs. Boston. The the Decision made that frenzy look like a city council meeting, and everything that came after was sheer madness.

We tore, we rent, we fought over him like pirahnas. But he hired a new P.R. guy, played in the post, won a title, won a Gold medal, and shifted the story on himself irrevocably.

But the pack doesn't like lying around peacefully. It wants the fight.

Hello, Russell Westbrook.

In Thursday night's game against the Thunder, Westbrook became the answer to everything bad about the Thunder. What was wrong with the Thunder defense? Westbrook blew his assignment (SO BADLY). What was wrong with the Thunder offense? Without James Harden, Westbrook was Westbrook, and he took all the shots and look off Kevin Durant and ruined all the good basketball there is to be played. Why did the Thunder lose? Because of Russell Westbrook.

There wasn't a single other bad player on the Thunder last night according to not only broadcasters but the general public. It went from "Blame LeBron" to "Blame Westbrook" in about 35 seconds.

I'm not here to deflect blame from Westbrook. I did not come here to praise Westbrook, I came here to point out the situation. I gave Westbrook an "F" last night in our nightly grades, and if there were a grade below that, I would have given it to him. His mid-range jumper was off. That happens. But he made poor decisions, forced the issue too much (something that he cut down on last year), and yes, was out of position on the last play. The Thunder lost because Russell Westbrook played poorly. If he pays better, they win. It's that simple. (Note: Nothing is ever that simple.)

But let's be clear on two things.

1. The Non-Durant-Non-Westbrook Thunder went 14-38 from the field night. Serge Ibaka's defense was atrocious and not just on the throwdown from Duncan. Kevin Martin is going to have to A. shoot better and B. move better without the ball.

2. Kevin Durant has had the same problem for years. He doesn't establish position off-ball and he doesn't cut hard for passes. Durant is the second best player in all of basketball right now, but that's a problem that media, scouts, fans see all the time. And that accounts for a huge amount of the problem with getting Durant the ball. Westbrook is essentially in a position where he must constantly flawlessly deliver the ball to a guy who for some reason never expects his defender to jump the route. Westbrook gets tunnel vision. Durant helps.

But you didn't hear that last night, nor did you hear about Durant costing Westbrook an and-one on a follow. It can be both. Russell Westbrook can play horribly and the Thunder can play horribly. Oh, yeah, and they still almost won the game. They're pretty good at basketball if you haven't noticed.

Harden might have helped Thursday night. We'll never know. But the Thunder are going to have to figure out how to go on without him regardless and a big part of that is going to have to be Russell Westbrook. Creating for teammates is part of it. Teammates doing a better job of finding opportunities is part of it. Not trying to jump the pass route on the final play of the game against a crafty veteran is part of it.

What's interesting about the Harden matter is it has now shifted to whether the Thunder should have kept Harden over Westbrook. This despite the fact that they weren't up for extension at the same time. The conversation should be about whether they should have put their resouces towards Serge Ibaka, who is a great defender and shot blocker with a solid mid-range game, but not in the class of either Westbrook or Harden. Or perhaps towards whether they should have given Kendrick Perkins the extension they did.

Durant is a singular talent. Harden is a singular talent. Westbrook is a singular talent. Maybe those are the players that should have been prioritized. But then, this is one game. And if the Thunder wind up better at the end of this season than last, who's to say they made the wrong move?

The pack, that's who. Facts be damned.

f Durant, who has said openly in the past that he doesn't want to shoot a high volume because he wants to stay efficient, doesn't shoot more than Westbrook, it's Westbrook's fault, the pack says. If Durant struggles, Westbrook didn't find him opportunities, the pack says. When players like Ty Lason defer, they're too passive. When players like Westbrook are aggressive, they're ballhogs. Westbrook believes he's as good as any player on the planet. Guess what? Most nights he's got a pretty good argument. But the pack must fight over something, and LeBron has kicked them off and sent them whimpering back to their hiding places, so it's Westbrook's turn.

From Iverson to Kobe to LeBron to Westbrook, there's always someone. Bad games are unforgiveable, good games come with caveats.

Welcome to the frenzy, Westbrook. The Beard is gone and somehow that's your fault, too. We'll see if the frenzy persists should the Thunder start winning the same amount.
Show Comments
Hide Comments
LeBron James has never committed four fouls in a single half. Until Game 4

The Celtics are giving the Cavs trouble again

Boston's starting five will look even more different in Game 4
Gasol was a part of NBA title-winning Lakers teams in 2009 and 2010

The hope for the Heat is that Bosh's salary will not affect the team's cap in the future

Seth's shooting numbers were better than Curry in the 2016-17 regular season