The Lakers opted against using 'stretch provision' on Steve Nash
The Los Angeles Lakers could have lessened the hit Steve Nash's expiring contract has on them this season but opted against using "stretch provision."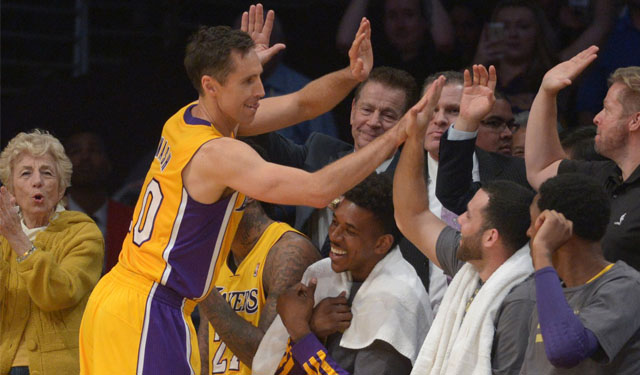 When the Los Angeles Lakers were looking to possibly bring in a big free agent or two for the 2014-15 season, Steve Nash's contract was a bit of a hurdle for the organization to overcome. He's due $9.7 million in the final year of a three-year contract with the Lakers, and without being able to trust his body will hold up one more season, the promise of improving the top end of the roster meant he was a candidate for the stretch provision. 
This past weekend the deadline to use the stretch provision for this coming season passed, guaranteeing Nash won't be stretched for salary cap flexibility in possibly his final season in the NBA. The stretch provision would have paid Nash the money owed this season over the next three years instead of the $9.7 million this year. It would have lopped off roughly $6.5 million from the Lakers' cap for 2014-15. From the LA Times:
The deadline for the Lakers to use the "stretch" provision on Steve Nash passed over the weekend.

The 40-year-old point guard is heading into his third year with the team, earning $9.7 million for the 2014-15 season.

Had the Lakers waived Nash prior to September, they would have been able to stretch his salary over the next three years at around $3.2 million annually.
Because the Lakers missed out on the big name free agents like Carmelo Anthony and LeBron James this summer, there wasn't a need to use the provision on Nash. They used their salary cap space on acquiring Jeremy Lin, re-signing Nick Young, and claiming Carlos Boozer off of amnesty waivers. They did their best to put together a competitive roster of veterans next season while leaving flexibility for big free agents in 2016, like possibly the pursuit of Kevin Durant.
Nash has been fairly brittle since leaving the legendary training staff with the Phoenix Suns and joining the Lakers via a sign-and-trade in 2012. He missed 32 games in the 2012-13 season and missed 67 games in 2013-14. He had only missed 10 or more games once in the previous 12 seasons prior to joining the Lakers, when he missed 20 games in 2011-12. Nash turned 40 years old in February.
Unfortunately, Antoine Walker was not involved

The newly minted league MVP said he wanted to enjoy his big moment

Westbrook became the second player ever to average a triple double for an entire season.
Jeff Van Gundy is stepping back into coaching

When it comes to naming MVPs, particularly in basketball, we can't seem to figure out what...

Russell Westbrook finally receives validation