The Spurs are back to relying on Manu Ginobili in the playoffs
Last year, it was rare when you felt like Manu Ginobili was having a big impact on the game. This year, Ginobili in the playoffs is showing his importance.
More: OKC 106, SA 97 | Thunder have new life | OKC flips script | Schedule
In a year's time, we've gone from "Where is Manu Ginobili?" to, "Where would the San Antonio Spurs be without Manu Ginobili?" In what ultimately ended up being a 106-97 loss to the Oklahoma City Thunder in Game 3 of the Western Conference Finals, Ginobili was often the saving grace for the Spurs. He had 23 points on 8-of-13 shooting, and was 6 for 9 from 3-point range in the game.
It was part of the renewed Ginobili we've been enjoying all season, and one we didn't see a lot of last season when the Spurs were within reach of their fifth NBA championship. In Game 3 against the Thunder, Ginobili went on scoring binges. He threw incredible bounce passes to teammates, and he even exchanged a couple of 3-pointers with Russell Westbrook in a furious finish to the first half. His improved play since last season has been the main reason this Spurs team is regarded as better.
The Spurs of 2012-13 were phenomenal, but it was largely despite the play of Ginobili. Ginobili wasn't bad, but he was supposed to be the third or fourth most important player on the Spurs at all times and he simply couldn't match the consistent production and execution to justify such a distinction. In the playoffs, he really suffered with his play and it hurt the Spurs quite a bit. When he had a big Game 5 seemingly out of nowhere in the NBA Finals, it was regarded as one last chance to remember that he was incredible in his day.
Things were so bad for Ginobili toward the end of their playoff run that it was questioned whether he should even come back and, if so, how much the Spurs should even invest in him. San Antonio never hesitated to bring him back, and the team used the frustration of letting a title get away to fuel them in their continued quest for a fifth banner to raise in AT&T Center.
The difference between that team and this team is certainly the rejuvenated Ginobili.
He's hitting shots and free throws at a much better rate this season, raising his true shooting percentage from 56.0 percent last season to 59.0 percent this season. In the playoffs, he's been even better. Last postseason, he barely made over 30.0 percent from 3-point range (30.2 percent) and it limited the effectiveness he could have on the Spurs' attack. This postseason, his 39.4 percent from downtown is helping spread the floor and making the defense pay.
The Spurs will need his craftiness and his overall skill if they're going to get back to the Finals to attempt to avenge their seven-game loss to the Miami Heat. They're going to have to keep proving age isn't what defines this team and that their incredible skill and discipline are what fuels the success. Ginobili coming back better than the previous year when he could have just slid into the twilight years of his career exemplify the Spurs' defiance to grow old as a basketball team.
In their Game 3 loss to the Thunder, Tony Parker and Danny Green were a combined 7 of 25 from the field for 17 points. Ginobili was the leading scorer with his effort and the only consistent point creator the team had on the floor at all times. And he'll likely be there to complement his Spurs' teammates if they're able to bounce back in Game 4. It's just the type of player he is and what he does for San Antonio.
Where would the Spurs be without Manu Ginobili? They would still be pretty good, but they wouldn't be better than they were last season.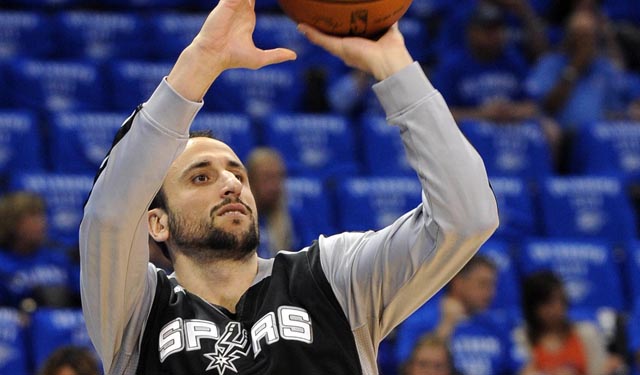 Show Comments
Hide Comments
Series prices show Dubs light years ahead

Green responded that he's 'the modern day Draymond Green'

Our experts predict whether the Jazz can compete with Golden State, along with the rest of...
Breaking down key matchups as the second season reaches the conference semifinal series

Pierce's 19-season run in the NBA ended Sunday as the Clippers bowed out of the playoffs

Utah overcame its relative lack of experience with a balanced, deep and versatile roster