There is reportedly a 'strong belief' Phil Jackson will return to Lakers
Knicks president Phil Jackson is staying where he is for a while, right? Apparently that might not be the case.
• 2 min read
New York Knicks president Phil Jackson fired his handpicked coach Derek Fisher on Monday, and the surprising move immediately brought increased scrutiny to the organization. Jackson took over the team 23 months ago, called New York "the best place to play basketball" and vowed to build a culture and install the triangle offense. This appears to be at least a bump in the road, at worst a sign that things haven't changed.
With rookie forward Kristaps Porzingis showing star potential, there is some hope that the Knicks can eventually get where they want to be. Already, though, Yahoo Sports' Adrian Wojnarowski has reported that Jackson's exit strategy -- a move back to the Los Angeles Lakers -- might be in place:
Golden State assistant Luke Walton is closest to a legitimately coveted candidate with ties to Jackson and the triangle – and he's still largely unproven, too. Walton intrigues Jackson, but truth be told: Why would Walton come East without an assurance Jackson is committed to the long run in New York? There's still a strong belief Jackson will eventually find his way to his fiancée Jeanie Buss and the Los Angeles Lakers. Walton will be competing with Thibodeau for the Lakers job in the spring, and who knows: Jackson and Walton could be reunited there.

Walton is a West Coast guy, the way his boss, Steve Kerr, is too. Kerr turned down Jackson and New York, because he had far more attractive choices. Porzingis makes the Knicks job intriguing in the long run, but make no mistake: One way or another, Jackson will be gone before the next Knicks coach has cycled through New York. To think the next Knicks president/GM – Steve Mills or Isiah Thomas – will stay true to the triangle is absurd, and so hiring one more triangle coach is almost guaranteeing him Fisher's fate.
ESPN's Stephen A. Smith said something similar on Sirius XM NBA Radio on Monday, and this obviously doesn't reflect well on the Knicks or on Jackson. He was supposed to be the savior of the franchise, and the mere suggestion that Isiah Thomas could succeed him is troubling for many reasons. 
New York will likely try to squash this story as soon as possible. It has to. Jackson earned himself a great deal of goodwill with the Porzingis pick, but replacing Fisher with interim head coach Kurt Rambis is a different story. The last thing Knicks fans want to worry about is Jackson's level of commitment.
Now that this is out there, though, even a swift, strong denial can't stop further speculation. There will be attention on the coaching search, for sure, but people in New York won't be able to stop looking at Los Angeles to see what Jeanie Buss decides to do about the team's leadership. By the sound of it, Byron Scott's days with the Lakers are numbered, so there will be two high-profile teams looking at coaches this summer. It will be nearly impossible to talk about one without the other, especially now.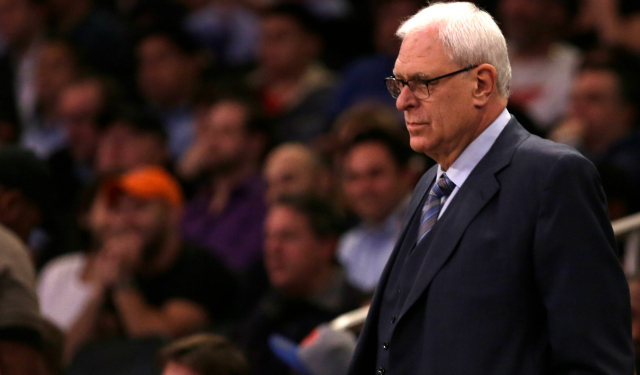 Show Comments
Hide Comments
The reserve guard has missed the last 11 games for the Clippers

Sounds like the Knicks need to figure out what's going on with their star forward

The future Hall of Famer opened up about his post-NBA life
Boston's star guard addressed the media for the first time since his sister's death

What does a first-round sweep mean for PG13's future in Indiana?

Celtics reverse course in Chicago; Pacers head home