Thunder are a model for what the Knicks wish they were
Oklahoma City didn't just blow out the Knicks on Christmas Day. With intelligent management and a purposeful and sustainable plan, the small-market Thunder have been trouncing the Knicks for years.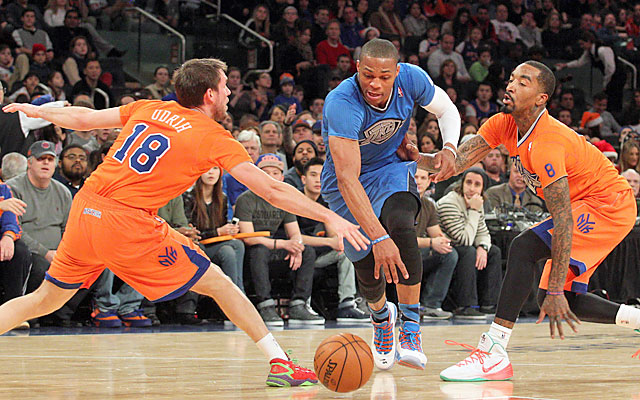 NEW YORK -- In the spirit of the season, let's not dwell on the dud that was the Big Apple's contribution to the NBA's slate of Christmas Day games for 2013. The Nets' 17-point blowout loss to the Bulls in Brooklyn, followed by the Thunder's 29-point drubbing of the New York Knicks at Madison Square Garden -- the most lopsided home loss in NBA Christmas history -- left very little to admire.
But let's try. Let's try to use this snapshot in time to admire just how good and smart the Oklahoma City Thunder really are.
The Thunder -- like the Spurs, Trail Blazers, Pacers and other successful (and unsuccessful) franchises -- do not have the advantages that the Knicks and Nets have. Such teams can't just go out and spend on free agents. Before big-spending teams were forbidden to acquire players in sign-and-trades in the 2011 collective bargaining agreement, the small-to-mid-market teams weren't doing much of that, anyway. When you rake in close to $1 million per home game and have massive local and regional TV deals, you have more room for error.
But the way things are going for the Knicks and Nets, I'm beginning to think that running a basketball team really isn't much different than running a household. The more money you have, the more you spend -- and the more mistakes you make.
Also, the more you come to believe that you can just spend your way out of those mistakes. Failure becomes a self-fulfilling prophecy. You wind up spending your way to so many mistakes that you have no choice but to try to spend your way out of them -- inevitably leading to more mistakes.
This is to say nothing of the Xs and Os and inactive players ( Carmelo Anthony chief among them) that turned Wednesday's Christmas Day showcase at Madison Square Garden into little more than an open practice for the Thunder, who cruised to a 123-94 victory over the depleted Knicks. This isn't about a six-hour passage of time on Christmas Day during which both of New York's teams were exposed for the steaming piles of rubbish that they are. It's about a six-year period during which the Thunder -- despite their obvious disadvantages -- have done so many things right and the Knicks (and now the copycat Nets) have done so many things wrong.
Leadership
- Scott Brooks took over for P.J. Carlesimo 13 games into the 2008-09 season, the franchise's first in Oklahoma City. He remains the coach to this day, having formed a bond and developed a shared philosophy with GM Sam Presti, who has been running the team since June 2007.
- Mike Woodson took over for Mike D'Antoni as coach of the Knicks after D'Antoni stepped down in March 2012. Woodson had his contract extended in May 2012 after he agreed to fire his longtime agent, Joe Glass, and join Creative Artists Agency, which also represents front office executives Allan Houston and Mark Warkentien, as well as Anthony, J.R. Smith , and J.R.'s brother, Chris, who played 81 seconds on Wednesday in his NBA debut.
- Woodson (9-19) continues to cling to his job by a thread of his thick, impressive goatee. If he gets fired, the executive doing the honors will be Steve Mills, the Knicks' third head of basketball operations since June 2011, when Donnie Walsh left and later returned to a front-office post with the Indiana Pacers. Walsh lasted 30 years with the Pacers, but could only stand three seasons working for the Knicks.
- The Thunder have had front-office turnover, too, but only because capable, rising executives earned promotions with other organizations. Rob Hennigan, for example, left the Thunder to become GM of the Orlando Magic in June 2012.
Personnel decisions
- The Thunder's three best players -- Kevin Durant , Russell Westbrook and Serge Ibaka -- have all been drafted by the Thunder since 2007. Three key members of their much improved bench also are homegrown draft picks -- Reggie Jackson , Perry Jones and Steven Adams . 
- The Knicks have only drafted two players on their roster: Tim Hardaway Jr. and Iman Shumpert . Two of their recent first-round picks, Danilo Gallinari and Wilson Chandler, were traded to Denver for Anthony in February 2011. Another, Jordan Hill, was traded in a deal that cleared the final cap-space hurdle to make a free-agent run for LeBron James in 2010. That plan ultimately failed and resulted in the team signing Amar'e Stoudemire to a five-year, $100 million deal that is now virtually untradeable because of Stoudemire's poor knees.
- Amnesty anyone? The Thunder still have their amnesty provision to use on Kendrick Perkins (acquired in the Jeff Green trade with Boston) when they see fit. The new CBA hadn't even been printed yet when the Knicks rushed to use the one-time provision to dump Chauncey Billups and acquire Tyson Chandler from Dallas in December 2011.
- The Thunder have not been immune to roster turnover, but the moves have been made because they didn't believe they could afford to keep players -- not because they were chasing shiny new ones. They traded James Harden (who they drafted, by the way) to Houston under such circumstances on the eve of the 2012-13 season.
- One of the players the Thunder received in the Harden deal was Jeremy Lamb , who they've endlessly shuttled back and forth to the D-League to hasten his development. Lamb scored 13 points on 5-for-8 shooting with three assists and two steals against the Knicks on Wednesday.
"When I was going through it, I didn't necessarily understand," Lamb said Wednesday of his D-League travels. "But as time went on, I just tried to get better and use that time wisely – not to mope, but just get better. And that's what I did."
- Another player obtained in the Harden deal, Kevin Martin, has since been sent to Minnesota in a sign-and-trade. But the Thunder have drafted Adams and Spanish guard Alex Abrines with picks acquired for Harden, and they have another heavily protected pick coming to them from the deal. Instead of dumping assets to acquire players -- the Knicks, for example, gave up a first-round pick to get Andrea Bargnani from Toronto -- the Thunder have dumped players to acquire assets.
Player development
- At 23-5, the Thunder are tied for the best record in the NBA with Portland and Indiana -- and yet, eight of their players are 25 or younger. They actually use their D-League affiliate in Tulsa to get young players experience and playing time. The Knicks use their D-League team in Erie to stash J.R. Smith's aforementioned brother, Chris, who was needlessly signed to a guaranteed contract so he could take up a roster spot and make J.R. happy. J.R., by the way, is shooting 35 percent from the field this season. He was 8-for-22 on Wednesday.
"We don't talk about the youth of our team," Brooks said. "We never have. I've always felt, if you're an NBA player, you've got to act and perform like an NBA player every night. ... We have great leaders in our locker room. They understand that how they perform and how they work trickles down to the rest of the team. Kevin and Russell have done a great job with that, and I feel that myself and my staff have done a good job of developing our guys."
Despite the youth of their role players, the Thunder trust them implicitly because they've seen them work and know they've put in the time in a structured, purposeful way. It's all part of a plan that starts at the top.
"They worked hard all summer," Durant said. "A lot of the guys stayed in Oklahoma City throughout the whole summer just to learn the system more, figure out what their roles were going to be on this team. If you put in hard work, you're going to produce results. Jeremy Lamb, Reggie, Perry, Steven -- those guys did a great job this summer working hard. We all felt confident in them. With our leadership like [ Derek Fisher ], Perk, Serge, Russell and myself, we know that we can help them out. I think what's surprising is that they're helping us out even more."
The Knicks have no such pipeline or plan. They still owe Denver a 2014 first-round pick from the Anthony trade and will convey the less favorable of their 2016 first-round pick and Denver's to Toronto from the Bargnani trade. Hey, at least they'll have a first-round pick in 2015. The Nets, who mortgaged their future to get Paul Pierce and Kevin Garnett from Boston, don't have a clean pick -- without swapping or outright conveying -- until 2019.
So this wasn't about a dud of a basketball day in New York on Christmas Day. It goes much deeper than that. If the Thunder ever wished they had the advantages that glamour teams in big markets enjoy, they should be careful what they wish for. There are two teams in New York who'd trade their lofty zip codes for some of the Thunder's assets and intelligent management right about now. 
And I shouldn't have to tell you who'd say no to that trade.
Show Comments
Hide Comments
All-Star forward was sent from the Bulls to the Timberwolves on draft night

It's not so much who Boston took, but who it didn't take

Former Bulls star was venting after being traded to the Timberwolves
Phoenix Suns' top pick was a bit off the mark with ceremonial first pitch at Diamondbacks...

Lakers traded Russell to the Nets along with Timofey Mozgov in exchange for Brook Lopez and...

The Lakers introduced their latest high draft pick Friday afternoon