Thunder believe solving a problem like the Spurs is about the basics
Oklahoma City has gone full Nike in terms of what needs to be done vs. the Spurs to prevent elimination in Game 6. "Just do it."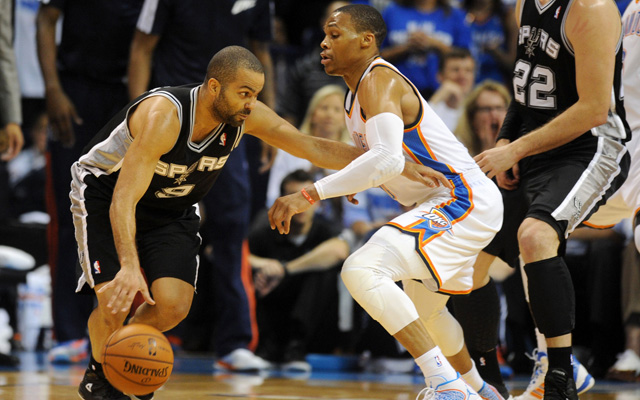 More postseason coverage: Playoff schedule, results | Latest news, notes
OKLAHOMA CITY -- Facing elimination in Game 6 vs. the San Antonio Spurs, the Thunder weren't going to get into a discussion about any sort of major adjustments. Kevin Durant shrugged when asked why both teams have played so much better at home than on the road. Russell Westbrook shook his head when asked if the team prepares any differently for Saturday's Game 6 than any other. 
That's really the dirty little secret. For all the Spurs' machinationss, their offensive beauty and complexity, their ingenuity and unconventional skill sets (hello, Boris Diaw), Oklahoma City knows what the Spurs want to do. 
Everyone who pays attention know that. Every opponent goes into a game vs. San Antonio knowing how the Spurs want to attack you. This isn't football where you can use different weapons or run instead of pass or vice versa. Even with more options on the floor in basketball, the Spurs have an identity built around simple things and everyone knows what they are. 
1. Guards create out of the pick and roll. 2. Guards get to the middle of the floor. 3a. Guards score. 3b. Defense collapses to prevent guards from scoring, Spurs guards kick to 3-point shooters. 4a. Shooter scores. 4b. Defense rotates to shooter, shooter makes extra pass, second shooter scores. 
The end. 
It's not about the complexity of what San Antonio does, it's how they do it. 
"They're precise in everything they do," veteran defender Nick Collison said at shootaround Saturday. "They're right in the right place every time. You can't catch up to the ball. You have to be able to guard them in a way where you don't have to help so much. You have to be really good at the point of the initial screen." 
In Games 3 and 4, the Thunder were marvelous at attacking the Spurs in pick and roll coverage. In Game 5, the Spurs responded by returning to their aggressive tactics in attacking the paint. The result was a blowout. 
I asked Russell Westbrook about how Tony Parker got loose in Game 5 in getting to the middle as opposed to Games 3 and 4. 
"I don't know what you're defining as 'getting loose,'" Westbrook said, before staring at me blankly until someone else asked a question. 
So, no, OKC wasn't super thrilled with their predicament on the brink of elimination. At the same time, they know what they have to do. It's not about design, it's about execution, as it always is with the Spurs. 
"You have to play at a really high level of effort," Collison said was the key in battling that execution. "They play with pace every time. they get into their pick and roll and if you're not totally on, and imposing your will on them, you're chasing them every time."
But Collison said he doesn't believe at this level with teams this good, the respective situations, Spurs on the brink of the Finals, Thunder on the edge of defeat, really create an advantage either way. 
"You know how important these games are," he said. "This late in these series, the need to play well is there, the urgency is there. But both teams know how good both these teams are. It dosn't give them an advantage knowing they can close it out and it doesn't give us an advantage being down one with the desperation."
Both teams know what's on the table. Both teams know what to expect. Both teams know what they need to do. 
Now it's a matter of doing it. 
Show Comments
Hide Comments
This was a horrible play by the Bulls' guard.

The UCLA product and southern California native has previously indicated his desire to play...

Wall threw down a similarly impressive dunk earlier in the series
LeBron played just under 44 minutes per game in the first round against the Pacers

Markelle Fultz is No. 1, followed by Kansas' Josh Jackson and there are some new names in the...

Leslie Alexander made his way onto the floor to complain about a call