Thunder deciding whether to have gold patch honoring Sonics' title
The Oklahoma City Thunder are undecided on whether or not wear the gold patch on the back of their jersey, which would commemorate Sonics' title.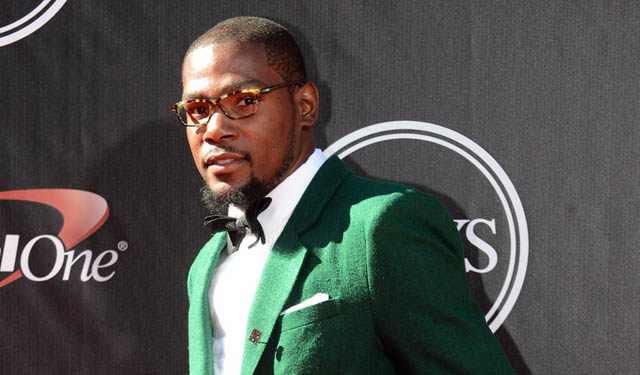 More Offseason Analysis: Coaching changes, news | Free Agency | Draft
The NBA is commemorating championship teams on the back of jerseys with a gold patch that denotes how many titles a franchise has won. The Chicago Bulls' gold patch on the back of their jerseys would have a "6x" on it for the six championships they've won in their history. But for those teams who possibly won titles before being relocated, it's not a slam dunk to just include the patches from another city.
The Oklahoma City Thunder infamously relocated from Seattle, where as the SuperSonics they won the 1979 NBA championship. According to Cody Stavenhagen of The Oklahoman, the Thunder haven't decided whether they'll have the patch on the back of their jerseys to honor the Sonics' title. It wasn't on the jersey shown in a merchandising catalog for Adidas.
Catalog photos show Thunder jerseys appearing without the tab, despite the fact the Sonics won a title in 1979.

However, a Thunder spokesman has not confirmed whether the Thunder will or won't wear the tab. The Thunder does have rights to Seattle's history and records, though the organization doesn't typically take advantage of it as part of branding a new identity.

The Atlanta Hawks franchise won a title in 1957-58 as the St Louis Hawks, and the Sacramento Kings won in 1950-51 as the Rochester Royals. Both team's jerseys do feature the tab in catalog photos.
It's a weird decision for the Thunder and other franchises.
Do the Kings really have anything to do with the Rochester Royals' win in 1951 or are they just ancestors of a basketball era that is far removed from the current version of the Kings? Would it be rude of the Thunder to commemorate the Sonics' title when there are so many who believe Clay Bennett and his ownership group removed the team from the city in an unacceptable manner? Or should the Thunder respect the history of the franchise and have some recognition of that feat despite the differences between the two sides? 
Show Comments
Hide Comments
Series prices show Dubs light years ahead

Green responded that he's 'the modern day Draymond Green'

Our experts predict whether the Jazz can compete with Golden State, along with the rest of...
Breaking down key matchups as the second season reaches the conference semifinal series

Pierce's 19-season run in the NBA ended Sunday as the Clippers bowed out of the playoffs

Utah overcame its relative lack of experience with a balanced, deep and versatile roster