Thunder-Grizzlies Game 3 Preview: Back to the Grind House
We preview Game 3 of the series between the Oklahoma City Thunder and the Memphis Grizzlies. It heads to Memphis tied 1-1.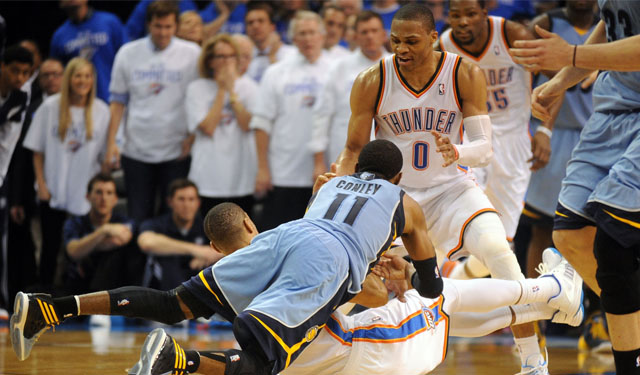 More Playoffs: Schedule | Threat Matrix | Previews: East | West | Picks
Previewing Game 2 of the Thunder-Grizzlies first-round series.
1. Where We Are: Kevin Durant hit a four-point shot. Kendrick Perkins had a buzzer-beater. And yet still, the Grizzlies came out of Oklahoma City with a 1-1 split, taking over home court advantage and control of the series. 
The Thunder were in the same spot a season ago against Memphis, having won Game 1 only to lose a difficult Game 2, knowing they needed to take either 3 or 4 at the Grind House. Instead, two difficult losses later and the Thunder were basically put down. But this is supposed to be different with having Russell Westbrook. So we'll see. The Thunder are the favorites for Game 3, but FedEx Forum has been a house of horror for them the last few seasons.
2. The Big Number: 36 percent. That's what Kevin Durant is shooting in the two games when Tony Allen is on him. The Grizzlies defender has used his lateral quickness and bulldog tenacity to make things difficult for the bigger Durant, hounding him on every catch and denying the ball starting at half court. 
3. Key Adjustment: The Thunder have to find some easier offense. That's not exactly a simple thing when you're playing the Grizzlies, but Durant is having to work far too hard for catches, let alone points. Westbrook has been baited into playing out of control and firing difficult shots, so the Thunder need to adjust their offense to shed Allen off Durant. 
One suggestion: Involve Zach Randolph in the pick-and-roll. That often means running it with Kendrick Perkins, but he is the Thunder's best screener and can pick off Allen better than anyone. And if Perkins gets a good screen on Allen, it will allow Durant to attack Randolph, whether on a pull-up or off the dribble.
4. The Big Story: If the Grizzlies go up 2-1, will the Thunder start to feel the pressure? This OKC team has always been tremendous bouncing back, but it has to feel rather shellshocked with losing home court advantage after that wild Game 2. The players have said all the right things about not going 16-0, but that first loss stings, and in this case, was unexpected. Durant has come off grouchy and frustrated the last three days leading up to the game. What's his mindset tonight?
5. The Facts: 7:00 p.m. ET. Quincy Pondexter is still out for the Grizzlies with a foot injury. There aren't known injuries for the Thunder at the moment.
Show Comments
Hide Comments
The second round of the 2017 NBA Playoffs tips off Sunday at 1 p.m. ET, with Game 1 of Cel...

The Spurs have homecourt advantage, and will host Game 1 Monday night at 9:30 p.m. ET

All-Star guard flew to Washington after Game 6 vs. Bulls to attend his sister's funeral Sa...
Some love for the Rockets over the Spurs, and at least one expert says the Cavs are going...

Ball is expected to be one of the top picks in the NBA Draft later this summer

The Bulls guard fielded questions about his future during exit interviews on Saturday