Thunder one step closer to the next chapter
Oklahoma City is a game away from the NBA Finals after taking Game 5 from the Spurs.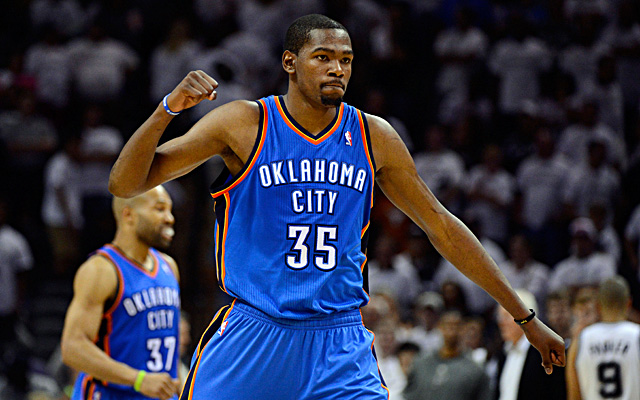 Kevin Durant scores 22 of his 27 points in the second half for the Thunder.
(Getty Images)
SAN ANTONIO -- It was almost too perfect.
Set up, just right. This young Thunder team has been all about growing, evolving, maturing, developing. And with 12 minutes standing between them and a shot at
NBA
Finals on their home floor, they were going to have to prove they had grown up. That they had matured. That they were
ready
.
"We never thought we were supposed to wait our turn," said Kevin Durant. "We always wanted to go and take everything."
And if they were going grab control of the series Monday, they were going to have to go and take it. Because the Spurs weren't giving it away.
Heading to the fourth quarter of Game 5, the Thunder led by nine. The same margin they held heading to the fourth quarter of Game 1 against the Spurs, which they gave away. Old issues came crawling back in Game 1 and there the Thunder were, looking at having to conquer those demons again.
More on Thunder-Spurs
Related links
Video
It only took a few seconds but they overcame it right away as Durant drilled a 3, which was the same number of points Oklahoma City scored the last six minutes of Game 1 as they squandered the game away.
Then another old crossroads. Flash back to Game 4 against the Dallas Mavericks in last season's Western Conference finals. The Thunder were five minutes away from knotting the series at 2 as they held a 15-point lead. Durant hit a 3 that appeared to put the game away, galloping back down the court while pulling the discount double-check move.
Except the Mavs came back. And crushed OKC's soul.
In Game 5 against the Spurs, there the Thunder were again. This time it was James Harden who drilled an and-1 3-pointer to put the Thunder up 13. By all appearances, the Thunder were well on their way to a landmark victory.
Except the Spurs came back. This time, though, the Thunder held on. They didn't completely implode with five minutes left. They didn't let their nine-point lead slip. They held on to the biggest win in Oklahoma City Thunder history.
"It had a lot of similarities, up nine, fourth quarter," Scott Brooks said. "We've learned from it."
Said Russell Westbrook: "During the timeout, guys came together and said we're not letting this happen again."
They didn't. It wasn't pretty, it wasn't ideal, but they didn't. Which is what matters. The Thunder had to find a way to win once in San Antonio and they got it done in Game 5. It doesn't mean they've won the series. It doesn't mean they've punched their first ticket to the NBA Finals. But it does mean that they've grown up in a big time way.
"We don't want to get too high on this win," Durant said. "We know that we still have a tough road ahead. But we came here, we wanted to get a win on their home floor. That's what it took for us to advance or get to where we wanted to get."
That's the thing. The process isn't complete and the Thunder know it. They know they still have to finish the job. If they want to jump the hurdle, they've got to win one more game.
But Game 5 was kind of a nice little snapshot of the Thunder's journey wrapped into 48 minutes of basketball. Explosive exciting athleticism. Breathtaking basketball. Infuriating carelessness. Defensive lapses. Brilliant playmaking. Incredible resiliency. Frustrating mental mistakes. Big plays, big shots. Kevin Durant. Russell Westbrook. James Harden. Building leads, losing them, coming back, hanging on.
Different this time around, is what we've all been saying. That they've learned from their mistakes. That they've grown. Hard to argue with that. If the Thunder are finally set to take that next step, at least they're doing it right.
Show Comments
Hide Comments
Club reportedly wants to keep stars, but doing so promises more confusion and falling shor...

Warriors star talks to CBS Sports about how he gets his mind right

Vince Carter, Norman Powell and Nene have also shined on the big stage
A fantastic series will pit two of the best players in the league against one another, aga...

What does this mean for the future of Paul George?

Father's dream of his own billion-dollar brand prevents his son from landing a deal with the...