Thunder's Kevin Durant on the media: 'They don't expect us to win'
Oklahoma City superstar Kevin Durant feels his team is being disrespected, but says he doesn't care.
• 2 min read
Oklahoma City Thunder star Kevin Durant fired another shot at the media on Friday. When asked about the perception that the Golden State Warriors, San Antonio Spurs and Cleveland Cavaliers were the only true title contenders this season, Durant directly said to ESPN's Royce Young that it's because media members don't like the Thunder:
"Man, the [media and experts are] always trying to nitpick us," Kevin Durant told ESPN.com. "I mean, they don't like us. They don't like how Russell [Westbrook] talks to the media, they don't like how I talk to the media. So obviously, yeah, they're not going to give us the benefit of the doubt.

"Especially since we've been together so long. Some of these teams are new, except for the Spurs, who have won. But we haven't won and we've still got the same core, so they don't expect us to win. It is what it is, who cares about them. They don't mean nothing, the critics. Their opinions, everybody has one, but we don't really care about them. Every day we're just going to keep grinding this thing out. We feel like we can compete with anybody."
Durant clearly takes issue with how his team has been covered, but I doubt there are many media people who would disagree with his statement that Oklahoma City can compete with anybody. As long as the Thunder have Durant, Russell Westbrook and Serge Ibaka healthy, they will be able to compete.  The question is whether or not they are in the same class as the Warriors, Spurs and Cavaliers.
Personally, I see them and the Cavs as a tier below Golden State and San Antonio based on the first half of the season, but reasonable people can disagree. If we're just looking at numbers, Oklahoma City has the third-best net rating and the fourth-best record, but it is the least balanced of those four teams -- its defensive rating is 11th in the NBA, while the others are all in the top five. 
Perhaps the cliche "it is what it is" was the most accurate thing Durant said there. Until these teams face each other in the playoffs and potentially the NBA Finals, the perception is neither here nor there. If you're Durant or any member of the Thunder, it doesn't particularly matter whether or not the team is considered to be on the Warriors' level. Oklahoma City is still a work in progress with a new coach, and the goal should be improving the defense over the next three months. Then it will get a chance to show it can indeed compete with anybody.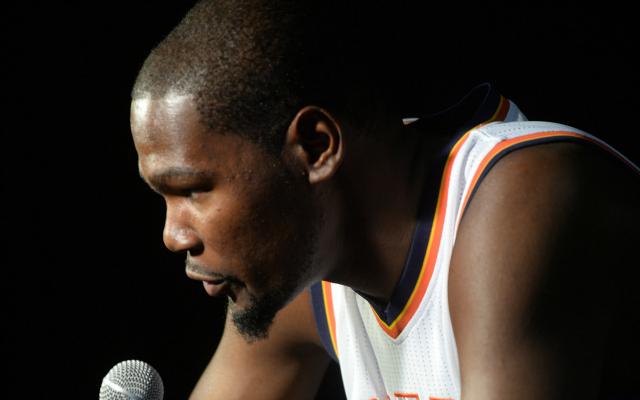 Show Comments
Hide Comments
Our Latest Stories
The Black Mamba and the King both show respect for the Big Ticket.

Confidence is a good thing, but he's getting a little ahead of himself here

That doesn't mean he won't eventually join the protests
He's played just 44 games over the past two seasons

Bosh's outlook for returning to the court is becoming more and more complicated

Pelicans star says he wants to stay, but honestly, that doesn't mean anything