Tim Duncan matches all-time playoff double-double record
San Antonio big man Tim Duncan made playoff history on Sunday.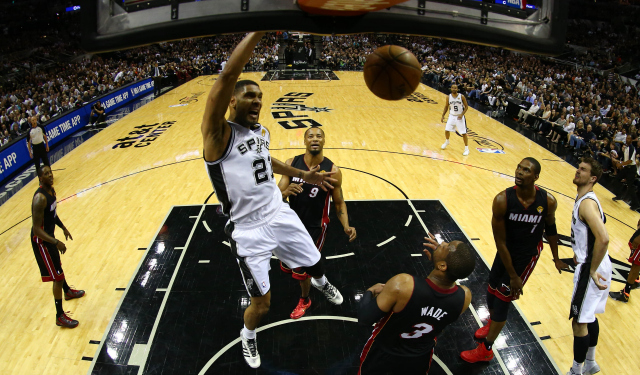 San Antonio Spurs big man Tim Duncan made history on Sunday night. In the third quarter of Game 2 of the NBA Finals against the Miami Heat, he recorded his 157th playoff double-double. That matches the all-time record set by Magic Johnson. 
It took Duncan 231 postseason games to reach the mark, and he's closing in on Kareem Abdul-Jabaar's all-time record for playoff minutes. That's some sustained excellence, kiddos. 
Show Comments
Hide Comments
Our Latest Stories
Leave it to Golden State to make a preseason game must-watch TV

The fact is, 14 of the last 16 winners have been centers

Houston will lose power forward depth if they can't find a deal with former first-round pi...
This sounds crazy, but it's totally plausible

This thing isn't getting any prettier for the two sides and what's coming out

Snakebitten Philadelphia sees another first-round pick with injury