Tim Duncan passes Magic Johnson for playoff double-double record
Spurs big man Tim Duncan made history on Thursday.
• 1 min read
More on Game 4: SA 107, MIA 86 | Depth key for San Antonio | Court Vision
Future Hall of Famer Tim Duncan made history in Game 4 of the NBA Finals on Thursday. As well as passing Kareem Abdul-Jabaar's all-time record for playoff minutes, he overtook Magic Johnson for the most double-doubles in postseason history. With 10 points and 11 rebounds, he recorded his 158th double-double.
Notoriously unconcerned with individual accomplishments, the San Antonio Spurs big man was nevertheless asked if he could appreciate the milestones, given that they happened in a 107-86 victory against the Miami Heat.
"I can appreciate you saying the names and having passed them in anything," Duncan said. "It's an honor to be in that position. Having won helps, obviously, but the focus is winning one more and once that one more is done, then I can look back and say, 'Hey, that's truly an honor.' "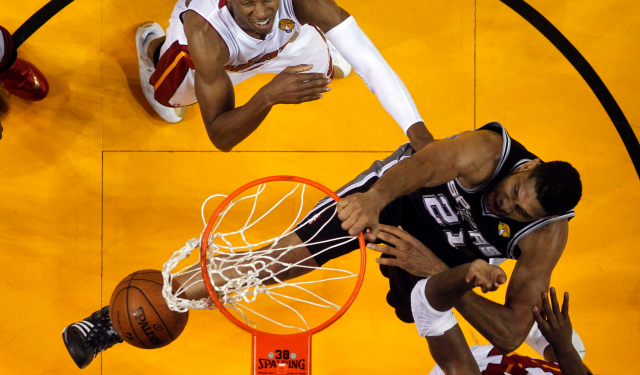 Show Comments
Hide Comments
The bucket pushed the Spurs' lead to seven, and the Grizzlies never got that close again

The series shifts back to Washington for a pivotal Game 5

Trade Kanter? Re-sign Roberson? What about Westbrook?
The Celtics and Bulls meet in Boston for a pivotal Game 5

Here is how to watch the Celtics-Bulls series

The Bulls point guard's thumb is still broken, with significant swelling