Timberwolves' Kevin Love is 2-3 weeks away from reevaluation
Minnesota Timberwolves power forward Kevin Love is at least 2-3 weeks away from returning to the court.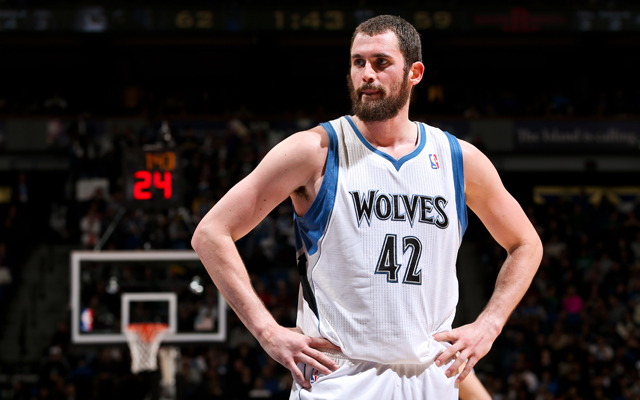 The Minnesota Timberwolves are starting to get healthier. Wing player Chase Budinger has been cleared for contact practice and should be back in roughly a week, once the Wolves can find room for a couple of practices in their schedule. Andrei Kirilenko and Nikola Pekovic are also looking to return with a couple of practices to test out their conditioning and healing ailments. 
And Ricky Rubio has been getting stronger and better over the past month. 
Just don't expect Kevin Love to be back with the team any time soon. According to the Minnesota Timberwolves' PR Twitter account, Love will need another 2-3 weeks until he can be reevaluated again.
#Twolves' @kevinlove met w/ Dr. Michelle Carlson of Hospital for Special Surgery in NY today.

— Timberwolves PR (@Twolves_PR) March 13, 2013
His right hand is healing properly, & he will continue to increase his conditioning program. Love will be re-evaluated in 2-3 wks. #Twolves

— Timberwolves PR (@Twolves_PR) March 13, 2013
This is disappointing news for Love and the Wolves, as many were expecting to get much more optimistic news Wednesday about a possible return in the near future. Instead, it looks like they're getting a much more conservative look at his second comeback of the season after breaking his shooting hand.
Love initially broke bones in his right hand while doing knuckle pushups in the preseason. He missed about a month before coming back and struggling throughout the majority of his games. His conditioning was poor and his hand wasn't healthy enough to allow him to feel comfortable while shooting. On Jan. 3, Love re-broke his hand against the Denver Nuggets.
At the time of the injury, he was projected to be out for 8-10 weeks, as of Jan. 9. It's been nine weeks since that initial diagnosis, putting him out longer than initially expected. If Love can come back in two weeks, that would leave him with roughly three weeks of action before the season ends. It would potentially give the Wolves about 12 games to see what they have before their season ends and they have to make pivotal decisions about the future of the franchise this summer.
Show Comments
Hide Comments
The reserve guard has missed the last 11 games for the Clippers

Sounds like the Knicks need to figure out what's going on with their star forward

The future Hall of Famer opened up about his post-NBA life
Boston's star guard addressed the media for the first time since his sister's death

What does a first-round sweep mean for PG13's future in Indiana?

Celtics reverse course in Chicago; Pacers head home