Timberwolves owner confirms Adelman to return as coach
After uncertainty following the health concerns of his wife, Timberwolves coach Rick Adelman is set to return to the sideline for Minnesota.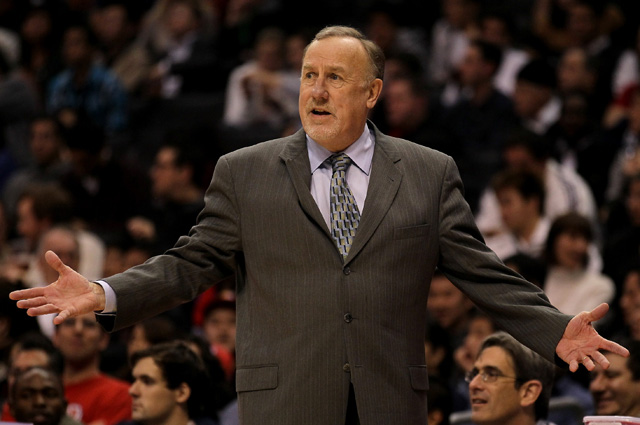 Rick Adelman missed time last season as his wife dealt with a serious medical condition. It was bad enough that at no point in the offeseason was it confirmed that Adelman would return. There was speculation, it was assumed, but it was never confirmed and understandably remained in the air due the evolving situation with her health. 
Over the weekend, the Minneapolis Star-Tribune brings word that Timerwolves owner Glen Taylor confirmed that indeed, Adelman will be back on the sideline for Minnesota: 
There never has been much doubt about Rick Adelman returning as Timberwolves coach, but it wasn't for sure until he brought his coaching staff out to his home in Portland, Ore., last week and laid out the plans for this season.

Wolves owner Glen Taylor confirmed Adelman's return Sunday. "Yes, he did [say he's coming back]," Taylor said.
via Sid Hartman: A lot of positives for Vikings go to waste | Star Tribune.
So that's good news, though it's still unclear what his wife's condition is. We can assume he wouldn't return to work if his wife was in any danger or if her condition wasn't stable, but that doesn't mean that the situation is resolved and she's OK. Hopefully, the Adelman family can put this awful mess behind them. 
The Timberwolves have another crack at the playoffs this season after what was considered to be a decent chance last year became a series of injury disasters. Adelman has helped turn around the direction of the franchise, and there's hope that new president Flip Saunders will only further that improvement. Adelman figures to be a big part of the Wolves' hopeful rise to contention.
Show Comments
Hide Comments
Towns is crazy clutch at the plate

Not every team is able to have a great shot blocker but that doesn't mean they can't protect...

She was struck down by stray gunfire in the South Side of Chicago
He usually does the embarrassing so this checks out

The 2014 third overall pick is "100 percent" and could take the NBA by storm if he's healt...

The Cavs have the opportunity to use the stretch provision on his salary to help with luxury...