Tony Parker leaves Game 6 with ankle soreness, misses second half
San Antonio Spurs point guard Tony Parker is out for the rest of Game 6 with ankle soreness.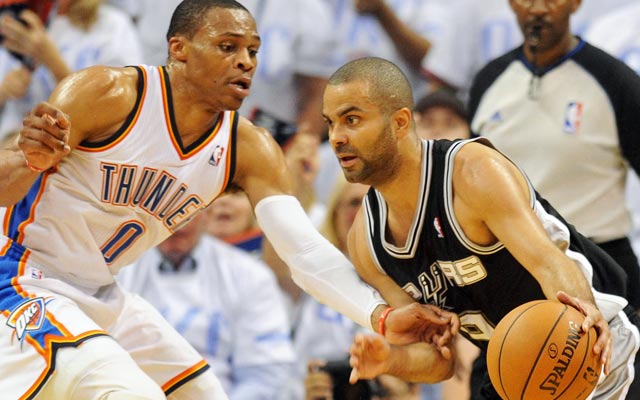 The San Antonio Spurs closed out the Oklahoma City Thunder in Game 6 without the services of Tony Parker. The Spurs' point guard left the game with 4.5 seconds left in the first half after playing 19 minutes and scoring eight points. 
After halftime was over, Spurs PR informed the media that Parker had soreness in his ankle and is out for the rest of Game 6. Cory Joseph started the second half in his place for the Spurs.
Parker came down a little awkwardly with about 15 seconds left in the half when he turned the ball over, but David Aldridge reported this was an injury that has been bothering him prior to the game. After the turnover and miss by the Thunder on the fast break, Parker drew a foul from Reggie Jackson before leaving the game.
He missed 14 games in the regular season but had his minutes managed under 30 per game as the Spurs prepared to have their players with maximum rest and health heading into the postseason. He's averaging 17.8 points and 5.2 assists in 17 playoff games.
Show Comments
Hide Comments
Will Iggy stay in Golden State? Does anyone have any idea what to do with Derrick Rose?

Hoiberg was asked about Isaiah Thomas possibly carrying the ball during Game 5

Celtics point guard does not need anyone to hype up his defense
The Bulls had it, they had it ... and ... it's gone

The Bulls found they were without hot water following their Game 5 loss

Wall finished with 20 points and 14 assists in win over the Hawks