Trade Deadline: Lakers resist calls for Howard, but Hawks will pitch
Dwight Howard likely to remain a Laker, but Atlanta is going to make a run anyway.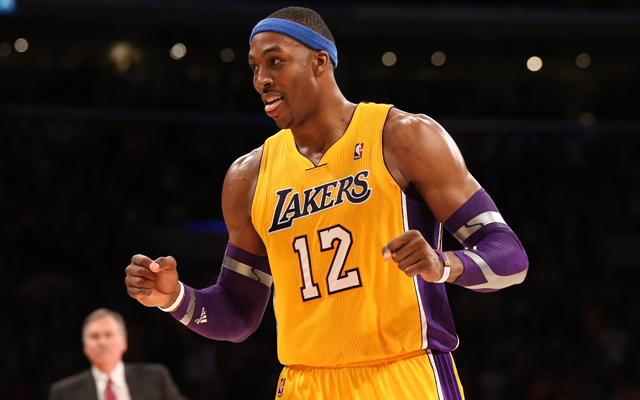 Howard will likely remain a Laker.
(Getty Images)
So, before we get started, let's get this out of the way. 
If we're putting odds on the Lakers trading Dwight Howard before Thursday's trade deadline, they're going to be horrible. It's not just that the Lakers have not been engaged in serious discussions, it's that they have actively pursued leaking the sentiment that they specifically will not trade Howard. 
Ken Berger of CBSSports.com and several other outlets have stated the same thing: the Lakers are going to dare Dwight Howard to turn down the extra money to re-sign with them in free agency. He might be unhpapy, he might be injured, he might drive Kobe crazy, but he's their guy. 
And still, teams will take swings. From Ken Berger of CBSSports.com: 
There's widespread belief that the Lakers won't trade Dwight Howard. However, several teams believe Atlanta will make a serious run at him.

— Ken Berger (@KBergCBS) February 19, 2013
Now if they did move Howard, Atlanta makes the most sense.
The Hawks could move some combination of Josh Smith, Al Horford, Kyle Korver, Anthony Morrow, DeShawn Stevenson, a few rookies and picks. In return, Atlanta gets the mega-star it always wanted, even with the threat of him bolting. Where's he going to go? Atlanta would still have the cap space to draw another star to play with him. 
Of course, this won't happen. The Lakers will continue to hold out, determined to never lose a star in trade or free agency unless it's on their terms, daring Howard to turn down the money and walk away, even after a disastrous season like this one. Howard has been underwhelming, inefficient, slow to rotate, clashed with teammates, and generally grumpy, and yet the Lakers will hold to their ideals. 
Welcome to the NBA trade marketplace, where very little makes sense 
Show Comments
Hide Comments
Our Latest Stories
Marshall Plumlee was once left stranded in the middle of the woods

The No. 2 pick in last year's draft is starting to show more of his potential

The Nuggets big man is not short on confidence
What Westbrook is doing will be referenced over and over again for years to come, in a meaningful...

The triangle will never die

The Pacers star praises the team that was rumored to be close to dealing for him a the dea...