Trade Deadline Report: Bobcats interested in Bargnani for Gordon
Charlotte needs to dump a player. Toronto needs to dump a player. Swap?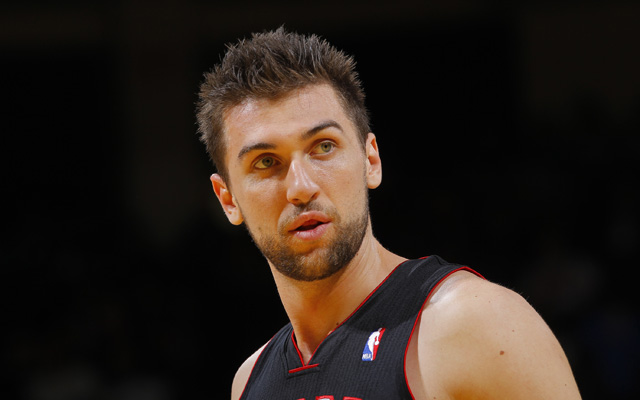 Bargnani is being shopped by Toronto.
(Getty Images)
ESPN reports that the Raptors have found another potential partner in a trade for Andrea Bargnani, the Charlotte Bobcats. 
All-Star Weekend trade rumble: Charlotte's growing determination to move Ben Gordon has presented Toronto w/another Andrea Bargnani suitor

— Marc Stein (@ESPNSteinLine) February 16, 2013
Sense I get, though, is that Toronto ain't gonna bite on Bargs-for-Gordon deal. Raps have Terrence Ross & Alan Anderson playing well there

— Marc Stein (@ESPNSteinLine) February 16, 2013
Gordon easier to take back $-wise than Boozer w/one less year on deal, but Raps unlikely to just trade ex-No. 1 overall pick for sake of it

— Marc Stein (@ESPNSteinLine) February 16, 2013
This doesn't make sense on the surface. But -- and there's always a but with trade rumors -- if a third team got involved, this could work. You need a team to take on contract from Charlotte -- either Gordon or Gordon and Tyrus Thomas. After that, if the team has some young value to send Charlotte, they can get Gordon, who's still capable, and maybe some picks. 
Charlotte seems to be getting more and more active closer to the deadline, especially after the reported kerfuffle with Gordon the other day. Meanwhile, Bargnani is a pretty good bet to get moved; Toronto's just holding out to see the best offer that it can pull. But something like this is close to making sense if more teams get involved. 
Show Comments
Hide Comments
Towns is crazy clutch at the plate

Not every team is able to have a great shot blocker but that doesn't mean they can't protect...

She was struck down by stray gunfire in the South Side of Chicago
He usually does the embarrassing so this checks out

The 2014 third overall pick is "100 percent" and could take the NBA by storm if he's healt...

The Cavs have the opportunity to use the stretch provision on his salary to help with luxury...