Trade market for Ty Lawson minimal, putting Rockets in seller's mode
Ty Lawson has not worked out in Houston, but sources say the trade market for the troubled point guard is minimal. What do the Rockets do?
Back in July, when all transactions looked good on paper, the Houston Rockets executed a low-risk, high-reward trade for troubled point guard Ty Lawson. Houston gave up nothing of value -- a hodgepodge of non- and partially guaranteed contracts and a heavily protected 2016 first-round pick -- and had the potential to reap substantial benefits.
It was worth a shot.
Since then, Lawson has struggled and James Harden hasn't been able to figure out how to co-exist in the backcourt with him. The Rockets, who were legitmately expected to compete for a Western Conference and NBA title this year, fired coach Kevin McHale only 11 games into the season and now they're tip-toeing the .500 mark in the bottom half of a conference that is surprisingly wide open. In a sign that not all trades have a clear winner and loser, breathing down the Rockets' neck in the standings are those same Denver Nuggets who'd sent Houston a point guard in alcohol rehab five months ago.
Now, the Rockets are contemplating their next move -- and it could involve trying to accommodate a desire on the part of Lawson and his agents to find a trade partner for him.
Easier said than done.
Even the Rockets, who have a long track record of expertly drumming up leverage in seemingly desperate trade scenarios, will struggle to find Lawson a new home. The trade market for him is minimal, league sources tell CBS Sports, and the best move for Houston might be to hold onto him.
There are even whispers in league circles that the Rockets might consider waiving the 28-year-old guard, who agreed to make his $13.2 million salary in 2016-17 fully non-guaranteed as part of the trade. But there are voices within the league that I trust who are dubious on that point; better for Rockets GM Daryl Morey to keep Lawson as a potential trade piece in another deal between now and the February deadline. 
"The only team that makes sense already has [Rajon] Rondo," an Eastern Conference executive said. "There's no market."
Well, there is a team not coached by Lawson's former cheerleader, George Karl, that clearly and desperately needs a veteran point guard: the woeful Philadelphia 76ers. Before Jerry Colangelo came aboard, you know the Sixers would've been sniffing around in an effort to collect a few more future picks for the trouble of taking on Lawson -- which is likely what it's going to take for Houston to rid themselves of him.
"But not now," another Eastern Conference executive said.
The dynamics have changed in Philly, and they've changed for the Rockets, too. Just seven months after losing to the eventual champion Warriors in the conference finals, the Rockets -- 11-7 under interim coach J.B. Bickerstaff -- have set their sights on simply making the playoffs.
Again, the expectations at the time of the Lawson trade were to advance to the NBA Finals. Expectations and results, of course, are two different things. Unfortunately for the Rockets, both have changed.
Now, with Lawson having served a two-game suspension for his latest DUI arrest and with Dwight Howard trying to refute the latest scuttlebutt that he's unhappy and could become trade bait himself, Morey will spend the next two months surveying his options. 
A Howard trade? Like the Lawson deal before it, it's worth a shot -- and reason enough to keep Lawson around in case his contract is needed to accomplish such a deal. But in reality, Houston is better off holding onto Howard, too. Even at 31, with an ever-growing injury history, Howard would appear to be a sure bet to opt out after the season and reap the rewards of nearly a billion dollars in new money flooding the player compensation pool. 
Often times, when one trade doesn't work out, it's better to resist the temptation to fix it by making another one. For the Rockets, there's no guarantee that shuffling the deck will yield a better hand.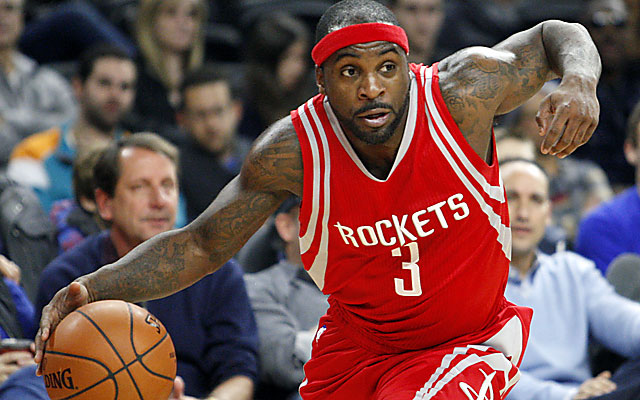 Even Floyd Mayweather weighs in on the war of words between the two stars

The three-team deal would have also shipped Kevin Love to Denver

Ball wasn't happy about a foul call, swore at a referee and took his team off the floor
Jared Sullinger wants back in the NBA; he knows his weight will play an important part

Cleveland is one of Rose's biggest suitors, and the Irving situation could lead to an even...

Five years later and Celtics fans continue to throw shade -- Allen later deleted the comme...