Trainer Tim Grover says Michael Jordan could still average 20 points
Michael Jordan's longtime trainer, Tim Grover, said if Jordan came back at 50 years old, he'd average 20 points per game.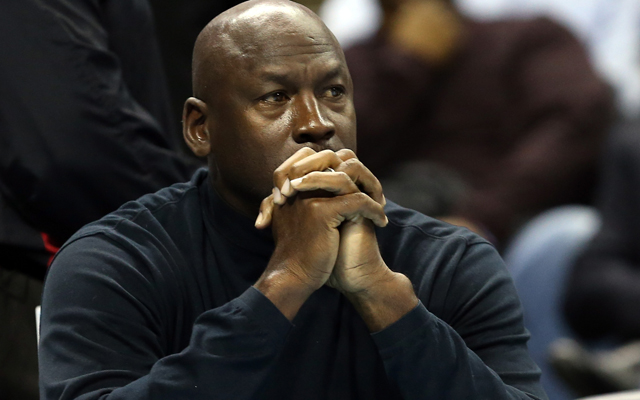 Is he thinking about bad jeans or a comeback at 50? Or both?
(Getty Images)
Tim Grover is the legendary trainer for multiple NBA legends and champions. His clientele of the past and present includes Hakeem Olajuwon, Charles Barkley, Kobe Bryant and Dwyane Wade. But most famously, he worked with former Bulls (and Wizards) superstar Michael Jordan throughout the majority of Jordan's basketball playing career.
He helped Jordan harness that unending competitive fire into proper training methods at his ATTACK Athletics facility in Chicago. If anybody knows Jordan's game and ability to get himself ready for the next athletic endeavor, it's probably Grover. So when Grover said that Jordan today would still average 20 points in the NBA, even at the age of 50, we should listen, right? Via Sports Radio Interviews:
"He'd average 20. Yeah, he'd average 20. … Listen, would he be able to go out and get through an 82-game season? One thing people also [forget], he had no major injuries. … But yes, Father Time is undefeated. But again, there's so much advancement out there … in anti-aging and so forth, so it is possible. I don't think that he would come back unless he was 100 percent ready."
About a week ago, Antawn Jamison was saying he thought Michael Jordan could average double figures in the NBA at the age of 50. Now, we've got Jordan's trainer saying he could double that to 20 points per game.
Does anybody have 30 points per game? Do I hear 30? Does anybody have Jordan winning the scoring title? No? Twenty going once? Twenty going twice? Twenty points per game for Michael Jordan at the age of 50 sold to the trainer from Chicago.
Twenty points per game is a lot of points. I'm not doubting Jordan's raw talent or drive; it just seems unlikely to me that he could do something that roughly 430+ current NBA players under the age of 50 aren't able to do now. Only 11 players in the league are averaging at least 20 points. The average age of those players is 26.6 years old. Only Tony Parker (30), Dwyane Wade (31), and Kobe Bryant (34) are past their 20s.
Jordan isn't making a comeback at the age of 50, as far as we know. But if he does, then Grover will be prepared.
"We've had no communication about that. … When he made that comment in the Hall of Fame speech, it was the one thing that stood out to me and I said, 'You know what? I better be ready just in case I ever get that phone call.'"
We'll see you soon, MJ. 
Show Comments
Hide Comments
The Celtics star coach looks ready to take the throne as one of the great coaches in the l...

Utah couldn't clinch at home, and the Clippers live another day

The Celtics coach appeared to be upset when the chants broke out
Cleveland will host Toronto on Monday

Boston will host Washington on Sunday

Nothing can happen until Cleveland's season is over, however