Trend Watch: Which Western power forward is best?
The Super Bowl is done, and the All-Star Game is rapidly approaching, which means it's the NBA's time to take over for a little while. A few things to keep and eye on this week.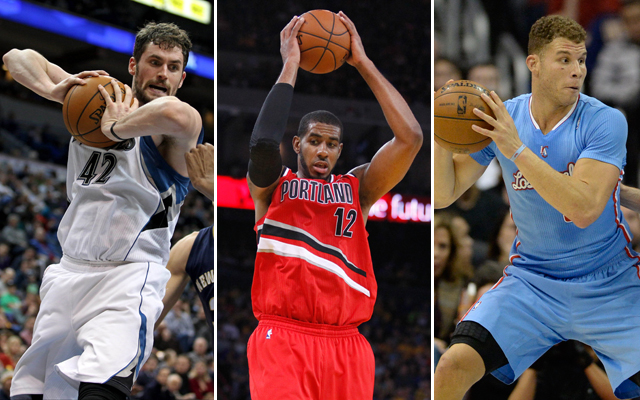 More NBA: Aldridge open to long-term deal | Latest news
The Super Bowl is done, and the All-Star Game is rapidly approaching, which means it's the NBA's time to take over for a little while. A few things to keep and eye on this week:
The West's power forward game is strong
For a long time, the NBA was in a bit of a point-guard revolution. With the new hand-checking rules and the fact a lot of teams had gotten away from the traditional idea of what a point guard is, the position exploded into being the most loaded in the NBA. Derrick Rose , Chris Paul , Russell Westbrook , Deron Williams , Rajon Rondo , Tony Parker , Stephen Curry , Mike Conley , John Wall , Kyrie Irving , Ty Lawson , Damian Lillard and on you could go.
It's still really a point-guard league, but at this current moment, with so many sidelined because of injury, the most singular talented position in the NBA is power forward. Specifically in the Western Conference.
Four stand above all the rest: LaMarcus Aldridge , Kevin Love , Blake Griffin and I'm throwing Anthony Davis into that conversation. Plus, the others like Serge Ibaka , Pau Gasol , David Lee , Dirk Nowitzki , Zach Randolph and Kenneth Faried .
So the question everyone wants to ask is, which one is best? Or the fancy way to ask that, as this NBA.com roundtable did: Which one would you pick if you were starting a franchise today?
(Can I just say LeBron anyway? I can't?)
The top four -- Griffin, Aldridge, Love and Davis -- have significantly differing styles and qualities. Griffin is the bruiser that plays above the rim. Aldridge is the polished post guy with a deadly midrange touch. Love is the physical rebounder that can step out behind the 3-point line. And Davis is the lengthy condor that finishes oops and dominates on the defensive end.
Which one? I really don't care. Give me any of them and I'm feeling awesome about my team.
The numbers shake out like this: 
Griffin: 23.3 points, 9.3 rebounds, 3.5 assists, 0.6 blocks, 23.39 PER
Aldridge: 24.3 points, 11.6 rebounds, 2.8 assists, 1.0 blocks, 23.19 PER
Love: 25.6 points, 13.2 rebounds, 4.0 assists, 0.4 blocks, 27.48 PER
Davis: 20.4 points, 10.5 rebounds, 1.4 assists, 3.4 blocks, 26.49 PER
By stats alone, Love seems to be the guy. But that doesn't tell the entire story of each player's value, nor how well they've played. Davis a freak defender, Aldridge shares a lot more of the offense with his supporting cast and Griffin only recently has been the featured offensive weapon. Can I just have four power forwards and one point guard on my team?
(Sidebar: I do think before the season, most would've crossed Griffin off that list pretty quickly. Consider this a public service announcement: If you still think that he's not playing to his potential, or should be doing more, or hasn't gotten better, or is only good because Chris Paul makes him so, then you haven't been paying attention. 
The way Griffin has expanded his game offensively, primarily with a consistent midrange jumper, has shown his ability to be a complete offensive player outside of the oops and setups from CP3. He still needs work on the block, but with his relentless energy and effort combined with a bit more well-rounded game, Griffin has emerged as a legit contender for the best power forward in the game. And I don't think anyone would've had him in that category three months ago.)
Here's maybe an even harder question: If you're starting your franchise today and you could pick either a point guard, or a power forward, who do you take? You could have Paul, Westbrook or Curry, or Aldridge, Love or Griffin? As Griffin's shown, there's a bit of a misconception that the point guard makes the power forward. And which is the better way to build? From the inside out, or the top down? That's a tough choiuce.
How are the Phoenix Suns doing it?
Just want to take a moment to recognize the Suns, and the fact they're now 29-19, and have played the last three weeks without Eric Bledsoe . This team isn't going away, people. Goran Dragic is a stud, the Morris twins remains unidentifiable and productive, Gerald Green has a strong case for Most Improved, Channing Frye is back stretching the floor and Miles Plumlee appears to be an offseason steal. 
The Suns dipped just a touch after Bledsoe's injury, but have responded with eight of 11 in the win column. Jeff Hornacek is the Coach of the Year and I won't hear anything else about it.
Way to go, Washington Wizards
The No. 1 song when the Wizards were over .500 last before finally cracking it this week? That Fireflies song by Owl City. 
But here they are now, back over the threshold, and feeling great about it. Bad news, though: They play the San Antonio Spurs tonight. At home! But still.
Finish, young man
Eye-catching stat from John Schuhman of NBA.com: "Damian Lillard has shot 41.2 percent in the paint and 42.4 percent outside the paint. On the opposite side of the spectrum is teammate Nicolas Batum , who has the biggest discrepancy between paint field goal percentage (71.7 percent) and outside-the-paint field goal percentage (36.3 percent)." 
Show Comments
Hide Comments
The second round of the 2017 NBA Playoffs tips off Sunday at 1 p.m. ET, with Game 1 of Cel...

The Spurs have homecourt advantage, and will host Game 1 Monday night at 9:30 p.m. ET

All-Star guard flew to Washington after Game 6 vs. Bulls to attend his sister's funeral Sa...
Some love for the Rockets over the Spurs, and at least one expert says the Cavs are going...

Ball is expected to be one of the top picks in the NBA Draft later this summer

The Bulls guard fielded questions about his future during exit interviews on Saturday