Trevor Ariza to have MRI on injured hamstring
Wizards wing suffered hamstring injury vs. Spurs Wednesday, says he "felt a little pop."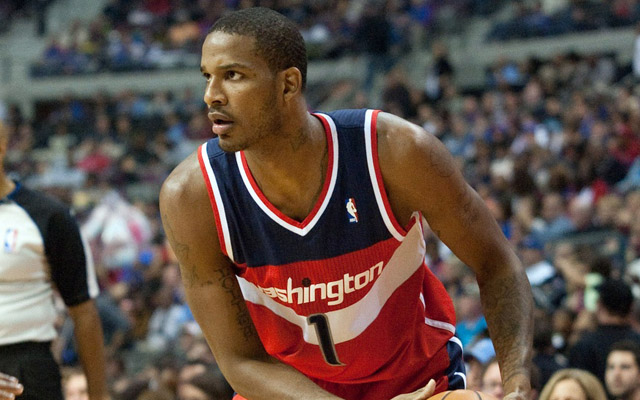 Trevor Ariza will undergo an MRI to ascertain the severity of a hamstring injury he suffered in Wednesday night's loss to the Spurs. From the Washington Post: 
But Ariza felt a tinge in his right leg almost immediately after he took off running toward the basket. Ariza drove and dumped the ball off to Marcin Gortat but collided with Duncan and landed awkwardly. Gortat got fouled on the play and Ariza repeatedly shook his leg and bent it back while standing at the foul line.

"I felt a little pop," Ariza said. "I fell down and threw it to Marc. From then on, I just didn't feel the same."

The Spurs called timeout shortly thereafter and the sharp pain in his hamstring continued. Coach Randy Wittman was about to replace him but Ariza asked to stay in the game, telling Wittman that he was okay.

But Ariza came up limping on the next sequence after Spurs forward Kawhi Leonard (13 points) intercepted a pass by Wall putting Ariza was on the chase. But instead of contesting a shot, Ariza grabbed Leonard, then reached for his right hamstring. Wittman immediately replaced him with Martell Webster. Webster started the second half at small forward and led all scorers with 21 points.
via Wizards' Trevor Ariza strains hamstring in defeat.
Ariza is averaging 15 points on 43 percent shooting from the field and 40 percent from three with six rebounds and two assists this season for the Wizards. The phrase "I felt a pop" has literally neve been a good thing when it comes to something happening on a basketball court. 
We'll see what happens with the MRI, but the struggling Wizards would be in real trouble on the wing without Ariza despite Martell Webster and Bradley Beal's recent offensive breakout. Ariza is one of their better defenders. 
Show Comments
Hide Comments
The city was originally supposed to host the game this year, but the NBA moved it due to political...

LeBron had his worst playoff performance in years, scoring just 11 points on 4-13 shooting

Brown might well end up coaching in the NBA Finals against the team that fired him
Smith and his family got great news before Game 4 of the Eastern Conference finals

Kyrie Irving went nuts in Game 4 and capped it off with a nasty highlight

Boston is better on defense without Thomas, but it obviously missed him in the second half...