Update: Pau Gasol practices, hopes to be ready for start of season
Lakers center set to miss the start of camp with knee soreness after surgery, says the "goal" is to be ready for opening night.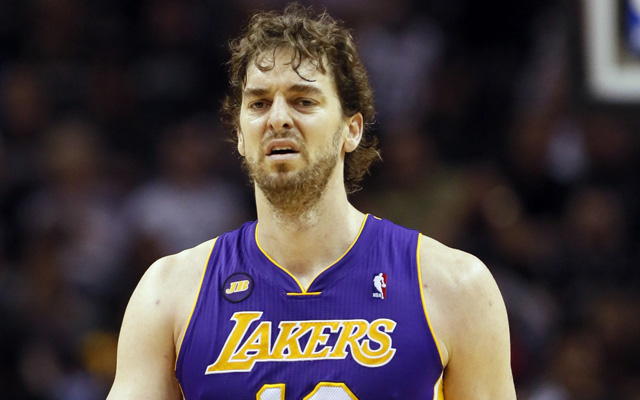 Update: So much for that, Gasol practiced Sunday all but the last drill. Though he does say he won't ever be "100 percent" again. 
Pau says he pretty much went through the entire practice today. Him and Steve Nash sat out the last drill

— Serena Winters (@SerenaWinters) September 29, 2013
Pau says he doesn't feel like he'll ever be 100% again... Though much better than last year

— Serena Winters (@SerenaWinters) September 29, 2013
They lost Dwight Howard. They had an underwhelming free agency. All the Lakers were really trying to focus on to start this season was to get healthy. Kobe Bryant has no timetable. Steve Nash is 100 percent but facing minutes restrictions. Pau Gasol had so many issues last year, surely he's... nope. 
Pau Gasol said Saturday he will not be available for the start of training camp as he continues to recover from offseason procedures in both knees. However, the Los Angeles Lakers' big man believes he will be back in time for the regular season.

"We're going to get into practices and get a feel of how the knees react and get into training slowly," said Gasol, who was cleared by Dr. Steve Yoon of the Kerlan-Jobe Orthopaedic Clinic this week to continue to ramp up his workouts. "I haven't done really a lot of basketball stuff. I haven't done a lot of contact yet. So we'll see how it feels. But the goal is to be ready for opening night, and whichever way it takes to get there, that's what we're going to do."

Gasol, who missed 33 games last season because of various injuries, underwent a procedure known as the FAST technique (Focused Aspiration of Scar Tissue) in May to address the tendinosis in both of his knees.

"It wasn't fun," Gasol said. "It was a painful recovery at first. Then a week after I did the procedure I had to get the stem cells out of my back and shoot them up through my tendons. So that irritated them again. But a few weeks after that I was able to walk again and live a little bit of a normal life. But then I had to give time to the knees to recover and to absorb what I injected, so I had to wait until August to start working again. Then it's been good since then."
via Pau Gasol says he'll deliver at center for Los Angeles Lakers - ESPN Los Angeles.
This has to be concerning for Lakers fans. It sounds like no big deal on the surface. He's going to miss the start of camp, take it slow, make sure he gets healthy. But everything with Gasol has been nagging injuries that escalate and then break down. It was foot soreness that turned into a torn plantar fascia. It was knee soreness that eventually required surgery. 
Maybe he'll be totally fine and have the kind of season a lot of people are projecting for him, but the 33-year-old hasn't been the same since the 2011 playoffs, and playing more center this season is only going to put more wear and tear on him. This definitely bears watching closely as the preseason progresses. 
Show Comments
Hide Comments
Kyrie Irving went nuts in Game 4 and capped it off with a nasty highlight

Boston is better on defense without Thomas, but it obviously missed him in the second half...

The Cavs are up 3-1, in part thanks to Irving's astonishing performance.
Maybe the best player of all-time has his best season, and he's not even in the discussion...

Cleveland took a 3-1 lead on Boston and will look to close it out Thursday

Boston had a 16-point lead at one point