Utah Jazz hire Spurs executive Dennis Lindsey as new GM
The Utah Jazz have announced the hiring of former San Antonio Spurs executive Dennis Lindsey as their new GM.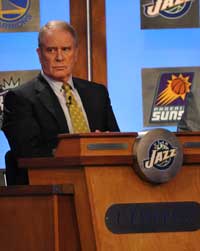 Kevin O'Connor's Jazz have hired Dennis Lindsey as GM.
(Getty Images)
A swift, discreet and productive executive search. We should expect no less from the Utah Jazz.
Less than 24 hours after word first surfaced that GM Kevin O'Connor would be kicked upstairs and hand over day-to-day duties to a new hire, the Jazz announced the hiring of San Antonio Spurs executive Dennis Lindsey as their new GM.
The Salt Lake Tribune reports that O'Connor will be given the title "executive vice president of basketball operations" and will oversee Lindsey, who was the assistant GM in San Antonio since 2007.
O'Connor hands over the keys after 13 years running basketball operations for the Jazz. Utah made the playoffs in nine of those seasons and consistently ranked among the league leaders in average home attendance throughout. 
Lindsey, who previously worked for the Houston Rockets prior to his arrival in San Antonio, has been one of the hottest names in GM rumors for years. He was a finalist for the Orlando Magic's GM job this summer and was linked to executive searches by the Philadelphia 76ers, Portland Trail Blazers, Toronto Raptors, Indiana Pacers and Phoenix Suns over the last two years.
For more than two decades now, the Jazz have carefully cultivated a reputation for class, consistency and stability. That image took a major hit when Hall of Fame coach Jerry Sloan abruptly retired in 2011, but the in-the-background O'Connor stepped forward and helped guide the organization through a difficult transition process. O'Connor wasted little time, shipping out franchise point guard Deron Williams less than six weeks later and beginning an on-the-fly retooling effort that landed a young Jazz team back in the playoffs in 2011-12.
In Lindsey, they seem to have identified a candidate who fits the organization's all-business, no-drama approach, and they nearly did the impossible here, conducting a thorough GM search without word leaking out until less than one day before they officially announced Lindsey's hire. No agents grandstanding, no distracting speculation, nothing. Just a clean transition of power to one of the NBA's most respected management minds. 
No wonder Lindsey, after all his previous courtships, would jump at this opportunity. Despite Utah's inherent small-market disadvantages, the Jazz -- in their clear vision, trust in their people and resolute adherence to their principles -- are a GM's dream.
Meeting comes amid reports the free-agent point guard has been discussing a one-year deal

Don't even think about it -- LeBron's reportedly not going anywhere

The point guard's unhappiness reportedly helped lead to his eventual trade request
Even Floyd Mayweather weighs in on the war of words between the two stars

The three-team deal would have also shipped Kevin Love to Denver

Ball wasn't happy about a foul call, swore at a referee and took his team off the floor