Van Gundy: NBA needs to review Brendan Haywood's 'punch' of Dwight Howard
Orlando Magic coach Stan Van Gundy says All-Star center Dwight Howard was punched in the back by Dallas Mavericks center Brendan Haywood. He wants the NBA to investigate.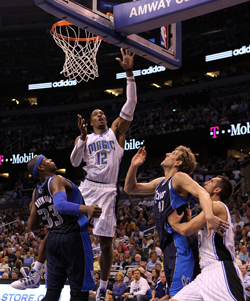 Was Dwight Howard punched by Brendan Haywood?
(Getty Images)
Whether you want to call it protecting a star player, lobbying or flat out whining, Orlando Magic coach Stan Van Gundy is up to his old tricks again.
Magic.com reports
 that Van Gundy wants the
NBA
to review a "punch" allegedly absorbed by Orlando's All-Star center Dwight Howard during a Friday night game against the Dallas Mavericks. Van Gundy claims the punch by Mavericks center Brendan Haywood forced Howard to miss practice on Saturday.
"It's really ridiculous and I want to get it on film and send it in (to the league office). Haywood just punched him literally with a closed fist right in the back," Van Gundy said. "So (Howard) got through the game because he was loose, but then it really tightened up. They are going to work on him and hopefully he'll be OK. But (Howard) didn't do anything (in practice on Saturday)."

Haywood refused to comment on the incident on Saturday when asked by reporters in Dallas.

"It happened on that one possession twice and it's a little frustrating. That (punch) one I'm going to send in (to the league office) because that one was out of hand," Van Gundy said. "The guy's punching a guy in the back, meanwhile at the other end … I'll just leave it at that."
As the NBA's top center -- and a horrible free throw shooter -- Howard has been one of the league's top targets of hard fouls for virtually his entire career.  He's currently leading the NBA in free throw attempts for the second consecutive season, a mark he's held in four of the last five years.
Does all the screeching amount to anything? Well, the fact that Howard is still dealing with hard fouls on a regular basis suggests that it hasn't changed the treatment he receives across the board.
Really, this is just seed planting. The playoffs are a month away, Van Gundy is a little ticked that he didn't have his franchise player for a practice and he knows Howard needs to be protected as much as possible if Orlando, the East's No. 3 seed, is to make any sort of run at all. The Magic bombed out in the first round of last year's playoffs; a repeat of that performance could lead to a coaching change. Given those stakes, the moaning and a phone call to the league office is probably worth the energy expended.
Show Comments
Hide Comments
Utah couldn't clinch at home, and the Clippers live another day

The Celtics coach appeared to be upset when the chants broke out

Cleveland will host Toronto on Monday
Boston will host Washington on Sunday

Nothing can happen until Cleveland's season is over, however