Vanessa Bryant: I wouldn't be married to 'somebody that can't win championships'
Kobe Bryant's wife, Vanessa Bryant, says its championships or bust when it comes to selecting a husband.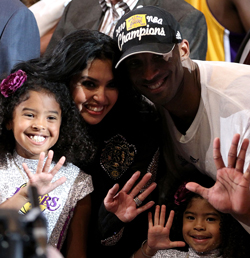 Kobe Bryant's fifth NBA title: the last satisfied moment of Vanessa's life.
(Getty Images)
Fair warning: reading this story could cause you to pull out your hair so quickly and violently you'll need to invest in one of those triple-thick LeBron James model "headbands" to cover up the damage.
New York Magazine has a lengthy feature on the lifestyles of the rich and famous wives of basketball stars. Vanessa Bryant -- wife of Los Angeles Lakers All-Star guard Kobe Bryant -- winds up ball-hogging the story's spotlight, explaining how her husband would pick up up from high school in his black Mercedes and going on about how she gave up collecting super-expensive purses because everyone does it now. 
But the real kicker comes when Vanessa explains her "championship or bust" philosophy when it comes to her standard for marriage.
"I love basketball. And I know what goes on behind the scenes, so I have a different perspective on things, but still, I do. I certainly would not want to be married to somebody that can't win championships. If you're sacrificing time away from my family and myself for the benefit of winning championships, then winning a championship should happen every single year."
Charlotte Bobcats, you can't get no love. New Orleans Hornets, you can't get no love. Toronto Raptors, you can't get no love. 
Vanessa really raises the bar here as high as it can go. She's not saying that she expects the Lakers to compete for a championship every year, which is a familiar pre-season maxim for, say, 10 or 15 teams a season. She's saying that a championship should happen every year or her husband is letting her down and, potentially, making himself un-marriage-worthy. 
Taking Vanessa at her word, Kobe therefore let down their marriage in 11 of his 16 seasons, including the last two seasons, which saw the Lakers eliminated before they even reached the Finals. "Oh, you averaged a career-high 35.4 points per game in 2006? That's awesome. You couldn't even carry Smush Parker to the Western Conference semifinals."
Of course, the couple's potential divorce and reconciliation have been in the headlines all year, so this really isn't a laughing matter. Considering those circumstances, though, these comments are even more incredible. She's really flexing, regardless of the thin ice. Until death (or an early playoff exit) do us part. 
At least we now know where Vanessa was when she wasn't with Kobe shooting in the gym. She was at home, threatening to walk out, season after season, providing all the motivation the NBA's most determined player could ever need.
Show Comments
Hide Comments
Kerr's health situation is worse than previously thought

Golden State has a 3-0 lead heading to Portland on Saturday

The playoffs are starting to heat up
Our experts predict every series in the 2017 NBA postseason

Our NBA experts predict the first round of the NBA postseason

The Warriors continue to roll without Durant