VIDEO: Andrew Bynum smokes Joakim Noah in the post
Cavaliers center puts Joakim Noah through the spin cycle.
Andrew Bynum got his first start for the Cavaliers Monday night vs. the Bulls. Bynum has struggled to stay on the floor this year and has continued to suffer with knee pain from his multiple surgeries. But in the first half vs. the Bulls, Bynum got the ball and went to work against all-world defender Joakim Noah. 
And smoked him.
Just to make that clear, because it was objected to on Twitter. That's not a travel. Unless you mean "he traveled all over Noah's face." Because he did that. GIF time? GIF time.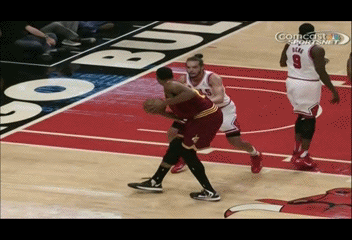 Got 'em.
Show Comments
Hide Comments
Will Iggy stay in Golden State? Does anyone have any idea what to do with Derrick Rose?

Hoiberg was asked about Isaiah Thomas possibly carrying the ball during Game 5

Celtics point guard does not need anyone to hype up his defense
The Bulls had it, they had it ... and ... it's gone

The Bulls found they were without hot water following their Game 5 loss

Wall finished with 20 points and 14 assists in win over the Hawks