VIDEO: Carmelo Anthony cooks the Pelicans in the fourth
Knicks forward goes for 42 including 13 in the fourth.
Carmelo Anthony decided he'd had enough. The Knicks are at the center of trade rumors, coach firing talk, and his impending free agency. After a miserable loss to the Grizzlies Tuesday, the Knicks responded in New Orleans with a win, and Melo dropped 42, including 13 in the fourth. 
The Pelicans took the lead briefly late, and then after Anthony Davis blocked him at the rim, Melo went to work. 
I especially like how he passed up the pull-up three for a closer, better shot that was more open. Just great work from Anthony who was awesome all night long. 
Here's his shot chart from NBA.com: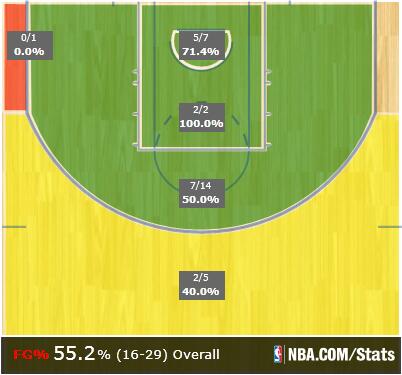 Show Comments
Hide Comments
Our Latest Stories
A phone call was made while Williams was still a member of the Lakers

The two will be together again on Friday

Hold up, let's not forget how weird Cleveland was last season
You'd think that would eliminate New York, but he said he wants to stay

This was unnecessary, but in the end didn't hurt the Mavs

The Raptors guard is stepping up