VIDEO: LeBron James' post-practice dunk session is insane
Off-the-far-wall-180-double-pump reverse. And that's just one of them.
Miami Heat star LeBron James will not be in the dunk contest, again, this year, and it's looking like a certainty he never will. To me, it's a gaping hole in his NBA career, not in terms of greatness, but just looking for memories of him. He's one of the greatest players of all time, and he's one of the best dunkers of all time. Sadly, we'll never get to see it. 
But, he did throw down some unbelievable stuff at practice in Phoenix today, and Sports360AZ caught it. 
Good. God. If you were curious where he takes off from on that first one: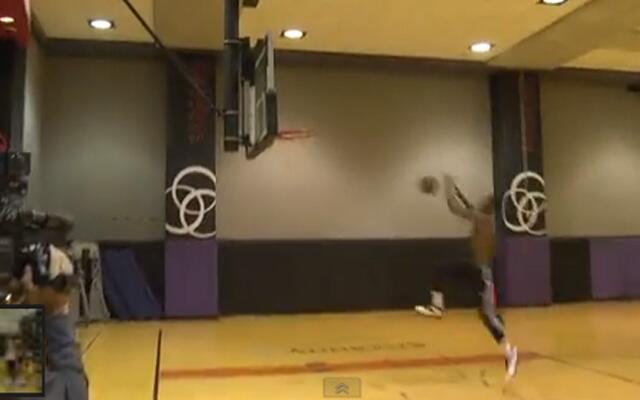 So, that seems far. 
The coordination to throw tha ball off the far wall and have it bounce perfectly is insane. It reminds me of a real-life version of this: 
Anyway, I wish I could post this without lamenting his absence in the Dunk Contest, it just would have been such a phenomenal moment. At least we have these hidden gems to marvel over. Man, that guy can dunk. 
Don't even think about it -- LeBron's reportedly not going anywhere

The point guard's unhappiness reportedly helped lead to his eventual trade request

Even Floyd Mayweather weighs in on the war of words between the two stars
The three-team deal would have also shipped Kevin Love to Denver

Ball wasn't happy about a foul call, swore at a referee and took his team off the floor

Jared Sullinger wants back in the NBA; he knows his weight will play an important part