VIDEO: Mike Scott gets in the pockets of Ian Mahinmi viciously
Atlanta Hawks' forward Mike Scott throws down the tomahawk dunk on Indiana Pacers' center Ian Mahinmi.
Atlanta Hawks' forward Mike Scott has had a rough go of it in Game 6 so far. After helping swing Game 5 in his team's favor with a huge 3-point display off the bench, especially in a key second quarter run, Scott couldn't make his first four 3-pointers in Game 6 and even got into a bit of a kerfuffle with Indiana Pacers' guard George Hill before halftime. 
But then he totally redeemed himself by violently throwing down a dunk on Ian Mahinmi. I mean... this was just vicious treatment of Mahinmi, but that's how you get your frustrations out and start swinging some momentum in your team's favor. 
Here's the .gif via @cjzero: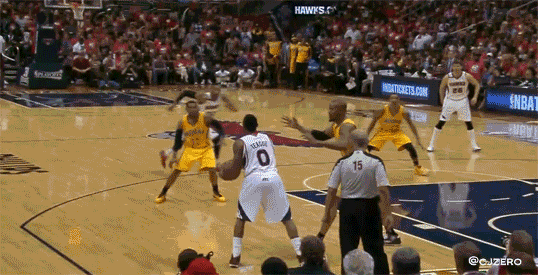 Show Comments
Hide Comments
Curry's turnover was a key moment in the Warriors' Game 7 loss last season

Curry is having an impressive postseason campaign, averaging 28.6 points per game

They have consistently posed problems for the Golden Boy, but can they keep it up?
Kerr hasn't coached since Game 2 of the first round against the Trail Blazers

Parker was injured during Game 2 of the Spurs' series vs. the Rockets

'Road Trippin' with RJ and Channing' is the best podcast in basketball