VIDEO: Spurs' Gregg Popovich gets a technical foul in Game 4
San Antonio Spurs' coach Gregg Popovich gets upset in Game 4 and earns himself a technical foul.
Perhaps Gregg Popovich really thought the San Antonio Spurs weren't getting the calls they should be getting against the Oklahoma City Thunder or maybe he was trying to find a way to fire up his team. Regardless of what his reasoning was, Pop earned another technical foul, this time in Game 4 of the Western Conference finals.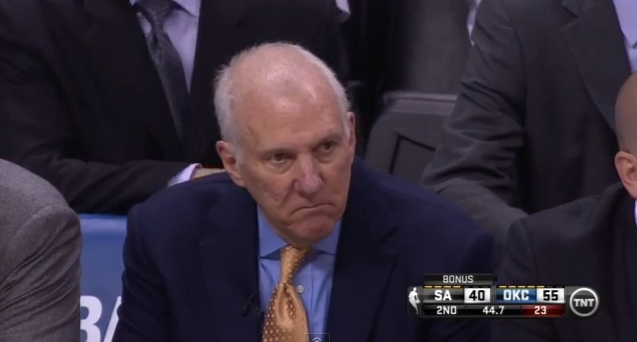 Pop is not a happy camper.
Show Comments
Hide Comments
If this is their real list, some of the names are pretty hilarious

The bucket pushed the Spurs' lead to seven, and the Grizzlies never got that close again

The series shifts back to Washington for a pivotal Game 5
Trade Kanter? Re-sign Roberson? What about Westbrook?

The Celtics and Bulls meet in Boston for a pivotal Game 5

Here is how to watch the Celtics-Bulls series