VIDEO: Spurs' Manu Ginobili can't be contained by his own shoes
San Antonio Spurs' guard Manu Ginobili blows out his left shoe in the Spurs' win over the Detroit Pistons.
San Antonio Spurs guard and Sixth Man extraordinaire Manu Ginobili is really hard to contain. His herky-jerky style on the court and incredible veteran savvy makes him a perfect blend of dribble penetration and jump shooter on the court. In fact, not even his shoes could contain him Wednesday night.
As he was attempting to defend Rodney Stuckey on a drive in the third quarter, Ginobili's left foot bursted right through the side of his shoe as he was trying to stop his momentum. We've seen guys lose their shoes before or had the "shoelace Hamburglar" J.R. Smith untying shoes left and right before. But it's rare we see a guy's foot go right through the side of his shoe.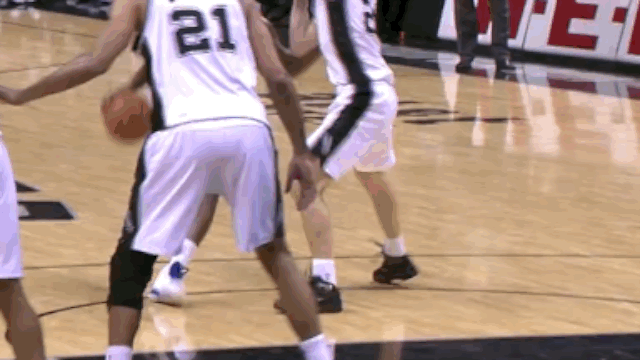 I guess that's why they don't call him Manu Shoe-nobili. Hello? Is this thing on?
Ginobili replaced the shoe and finished the game with 16 points and nine assists in the Spurs' 120-110 win.
Show Comments
Hide Comments
You play who's in front of you, and that's what Golden State did -- and beat everyone it f...

This is the first sweep the Spurs have suffered since 2010

Pop doesn't know whether Manu Ginobili will retire, but he wanted to give him a proper salute...
San Antonio doesn't know what will happen with Manu Ginobili and Patty Mills this summer

Our experts predict every series in the 2017 NBA playoffs

Check back here for all of the conference finals results from the NBA playoffs