VIDEO: Stephen Curry owns the third quarter in Game 1
Stephen Curry had another one of those third quarters.
Stephen Curry is Mr. Third Quarter. He owns them. 
Against the Spurs in Game 1, Curry scored 22 points in the third, and assisted for eight more. So of the Warriors' 39 points, Curry had a hand in 30 of them. He went 9-12 from the floor, had three assists, and scored 14 straight at one point. 
Here's his third quarter shot chart: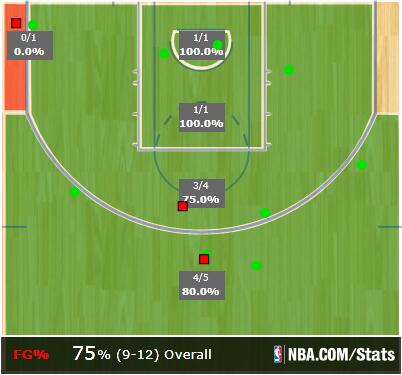 Stephen Curry, y'all. I'd say try stopping him, but you can't. You just can't. You can only hope he misses. 
Show Comments
Hide Comments
Will Iggy stay in Golden State? Does anyone have any idea what to do with Derrick Rose?

Hoiberg was asked about Isaiah Thomas possibly carrying the ball during Game 5

Celtics point guard does not need anyone to hype up his defense
The Bulls had it, they had it ... and ... it's gone

The Bulls found they were without hot water following their Game 5 loss

Wall finished with 20 points and 14 assists in win over the Hawks