Vince Carter apologizes for flagrant two elbow to Steven Adams
Mavericks guard Vince Carter apologizes to fans of both teams for losing his head.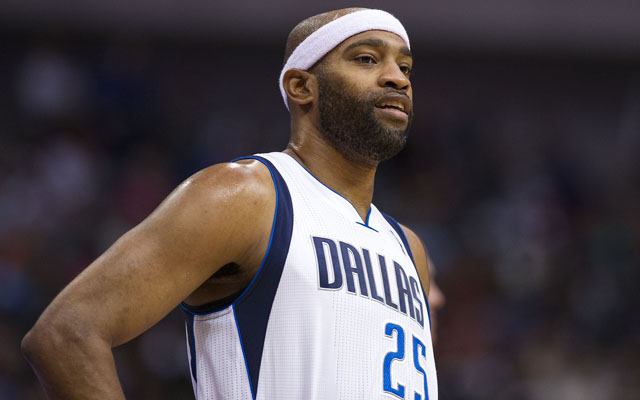 Mavericks guard Vince Carter apologized Wednesday night for losing his cool when he elbowed Thunder center Steven Adams in the head, earning him a flagrant-two ejection for his trouble. From the Dallas Morning News: 
"I just want to apologize to the fans of both sides," he said. "There's no need for it. They're trying to clean up the game and make it fun for fans to watch. It was one of those things where I got caught in the moment and reacted to a reaction that was done to you. My intentions have never been that way. It's just one of those things."

Asked if he thought the league would suspend him, Carter said: "It is what it is. There's nothing you can do. I hurt my team giving up free throws and points, so, I just have to deal with the consequences and move forward. It happened. Sometimes when you do something like that, you wish you could take it back. It was a physical game. We have a lot of history. All of them have been chippy and edgy."
via Vince Carter apologetic for letting his emotions get the best of him in a rugged game | Dallas Morning News.
Here's video of the incident: 
Carter's never had the reputation to do those kinds of things, which made the event all the more surprising. His comments won't spare him from what is an almost automatic suspension from the league (hitting players in the head is an absolute suspension-worthy violation, particularly on purpose), but it is nice to see him recognize it. Everyone gets one in a sport like basketball. No long-term harm (thankfully) and well, a little foul, but it'll blow over. 
Show Comments
Hide Comments
Our Latest Stories
The Thunder center used to say 'No English' whenever the future Hall of Famer came around

That's certainly one way of putting it

There is a pending civil suit against the guard for sexual assault
The star's clutch shot represented validation for him

Last season was obviously frustrating for Houston's superstar

The Black Mamba and the King both show respect for the Big Ticket.