Wade: Don't put LeBron returning to Miami solely on me
Dwyane Wade says there's a lot that goes into LeBron James' decision this summer and it can't be on him.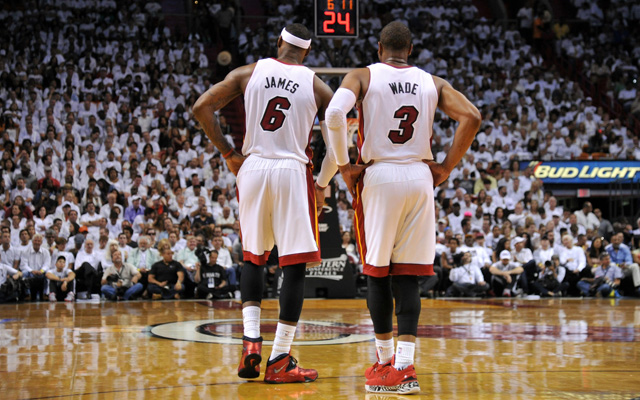 More postseason coverage: Playoff schedule, results | Latest news, notes
Dwyane Wade told USA Today Tuesday that people shouldn't put the onus of whether LeBron James returns to Miami or not on him. James can opt out this summer and become an unrestricted free agent after four years with the Miami Heat. 
"Just don't solely put it on me," Wade said, laughing. "That's what I'm saying. Don't put the X on me. ... There's a lot that goes into, so just don't say, 'If Dwyane Wade doesn't have the year that we're accustomed to, it's over.' "
via Healthy Dwyane Wade doesn't want blame if LeBron James leaves Miami Heat.
It's an interesting comment from Wade, essentially trying to downplay his responsiblity if the super team that they put together in 2010 were to detach and scatter this summer. It's also a strange departure from Wade's usual confidence about his health, essentially admitting that he can't be the rock he was when the Heat came together. 
That said, Wade is having an unbelievable postseason. He's on pace to become the only guard in NBA history and one of only five players ever to average 19-3-4 on at least 52 percent shooting in the playoffs at 32 years of age or older. What he's doing has literally never been done by a guard before. 
We all assumed Wade was on the slide out, that he would fade from relevance. But with James taking the lead, and with an aggressive rest plan that saw him only play in 54 games this season, Wade is surging. He looks spry, he looks ready, and there is every reason to believe he could help the Heat continue their success for several more seasons if James comes back. 
Just don't put it on him if it doesn't happen. 
Show Comments
Hide Comments
Lue said that the Celtics were harder to game plan for than the Warriors

James needs only 28 points to pass MJ for the most points in NBA postseason history

With all the rumors swirling around, one thing that's for certain, is Ingram will be staying...
Veteran guard is set to make nearly $24M if he returns to Chicago for 2017-18 season

The Cavaliers can clinch a trip to their third straight NBA Finals with a win Thursday nig...

Who is the best player your team could get in the offseason? Paul George? Jimmy Butler? Markelle...