Warriors win a new way, topping the Spurs with defense in Game 4
The Warriors had to win Game 4. They played kind of terrible but found a way.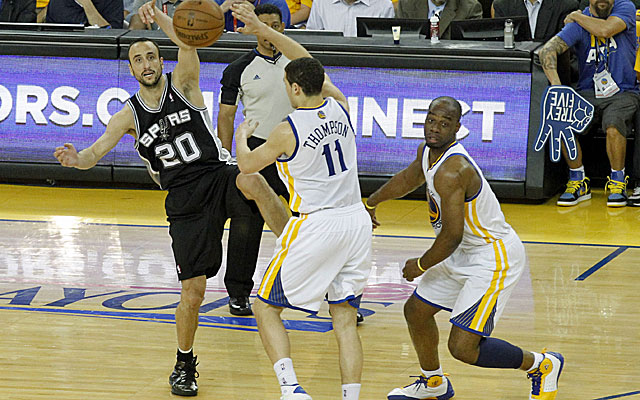 The Warriors have had a pretty basic formula for winning playoff games: make everything.
In their previous five playoff wins, the Warriors shot 51.6 percent from the field. For the most part, if the Warriors were winning, they were hitting 3s and lighting up the scoreboard. They're an offensive team, and winning off their defense isn't really the plan.  
More on Spurs-Warriors
Related links
They closed the Nuggets in scoring just 92 points and shooting 40.3 percent, which was a real growing-up game for them and one that tested their mental fortitude. 
And, in a must-win Game 4 on Sunday afternoon, the Warriors had to fall back on that defense again. Shots didn't drop really at any point. The Warriors never could piece together one of those trademark runs. It was all about the grind, about finding points when they could and never letting the Spurs get away from them. 
The Warriors shot 38.0 percent from the field and only made seven 3s. But they held the Spurs to 35.5 percent and in the overtime frame gave up a single basket -- a 3 to Danny Green with a little more than a minute left. 
The Warriors are at their best when they're explosive. But that supercharged offense took a hit before tipoff as Stephen Curry was clearly hobbled because of a sprained ankle. Without his ability to erupt, and Klay Thompson struggling, it was up to the Warriors to lean on their defense, something that hasn't really been part of that franchise's culture for a long time. 
Anchored by an incredible defensive performance from Andrew Bogut, the Warriors forced the Spurs out of the paint (only 34 points in the paint) and neutralized their drive and kick game. Now: The Spurs missed shots, there's no doubt. An air-balled open 3 late in regulation by Green. A missed putback dunk by Kawhi Leonard in overtime. But the Warriors made most everything a challenge.
One sequence sticks out in my mind: With a little more than a minute left and the Spurs up two, Tim Duncan isolated in the post and went to his patented drop-step move over his left shoulder. Bogut was all over it, stuffed the shot back into Duncan's face, Duncan regathered, and Bogut contested the next attempt well and rebounded the miss. An incredible individual defensive effort that led to a major stop and allowed for a game-tying Jarrett Jack jumper 10 seconds later. 
The Warriors might not have enough magic to beat the Spurs two more times, including once in San Antonio. But they proved they aren't a one-dimensional team. They can defend and win with that. The Spurs should've won this game. They missed a heap of opportunities to extend a lead and, with the Warriors sputtering, never could put in the kill shot. Reason for it? Because Golden State's defense kept them in the game. 
Maybe it was the basketball gods paying them back. The Warriors should've won Game 1 and gave it away with bad defense and silly mistakes. After Game 4, a win they really had no business getting, things are all even now. Literally. 
Show Comments
Hide Comments
Houston advances, and San Antonio is set up to follow suit after its Game 5 win

This is fuel to the Westbrook haters' fire

How to watch the first-round series between L.A. and Utah
The playoffs are getting interesting

Harden didn't play great, no one could shoot, and the Rockets still rolled to a 4-1 series...

The Cavs and Warriors have both swept their first-round opponents