WATCH: Aaron Gordon's tomahawk dunk will amaze you
Magic forward rises and flies for a huge dunk vs. the Nets.
In-game dunks are so much harder than dunk contest dunks. You have opponents, you're being contested, you're more tired ... everything is more difficult. So when you pull them off, the reward is that much greater. 
And Orlando Magic forward Aaron Gordon makes them all look like dunk contest dunks. Against the Nets on Tuesday, Gordon took off from a step inside the free-throw line, and tomahawked this bad boy so hard I'm pretty sure they felt it in Cape Canaveral. 
Reminder: this guy finished as a runner-up in the dunk contest. I already can't wait to see him vs. Zach LaVine in a rematch.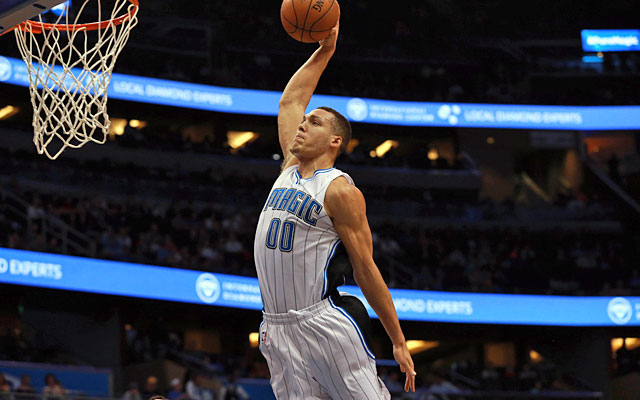 The 24-year-old swingman will become an unrestricted free agent

The youngster hit Oladipo with a nutmeg during a one-on-one game at Oladipo's camp

The Cavs will be looking to upgrade their squad after their Finals loss to the stacked War...
Denver is reportedly also in talks on a three-team trade that would send them Kevin Love

Barclays Center hosted the BIG3's inaugural slate of games on Sunday, with The Answer as a...

Pierce was drafted 10th overall by the Celtics in the 1998 NBA Draft