WATCH: Steph Curry hits half-court buzzer-beater on his way to 51 points
The world's greatest brings out another highlight in a season that is one long highlight reel en route to 51 points and another win.
Stephen Curry had himself a night Thursday. Well, pretty much every night this season, Steph Curry has had a night. But Thursday he set a record for most consecutive games with a made 3-pointer, he scored 51 points in the Warriors' 130-114 victory over the Orlando Magic, and he knocked down this third-quarter buzzer beater from half-court.
And then he laughed about it, because that's pretty much all there is left to do at his play at this point. 
Curry shot 20 of 27, 10 of 15 from 3-point range, and finished just two 3s short of the record for most in one game (12). He had seven rebounds and eight assists to go with the 51, and it was the most points scored by a player with only one free throw. 
The MVP race is over, you can go ahead and put his name on it, if you haven't already. The Warriors' magic number to clinch a playoff spot is two. And February isn't over.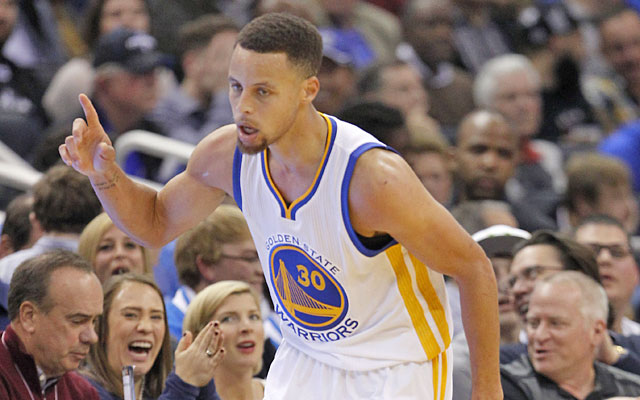 Rose reportedly agreed to a one-year deal with the Cavs

Fredette starred for the Shanghai Sharks last season

The free-agent point guard spent last season with the New York Knicks
Stevens was trying to take Hayward and his wife to their hotel

Darius Miller got a whole lot of hype from a case of mistaken identity

Richard Jefferson understands why Kyrie Irving would request a trade